Following a promotional offer from Google, like millions of people around the world, I was able to get the Google Nest Mini connected speaker for free. Here is my feedback, as well as my tips for properly configuring this speaker.
In this article, I give you my opinion on this speaker that Google has managed to impose on millions of people with this pretty marketing feat. I also explain how to configure it, so as to take full advantage of it, without giving all your personal data to Google.
Introducing the Google Nest Mini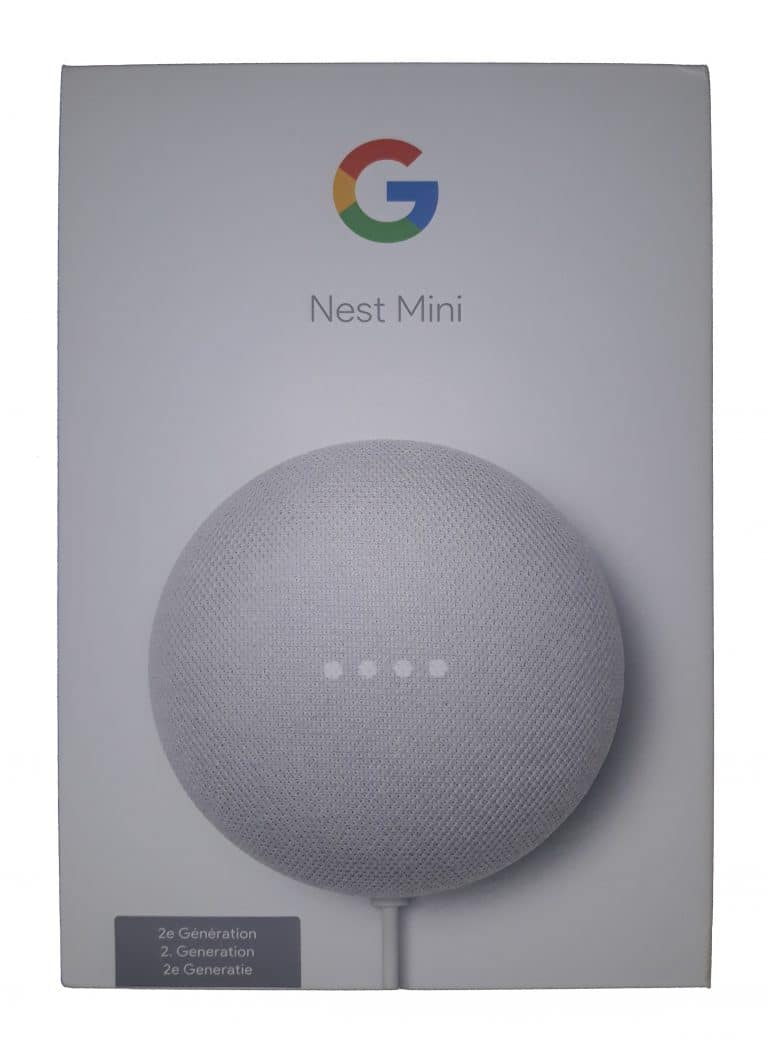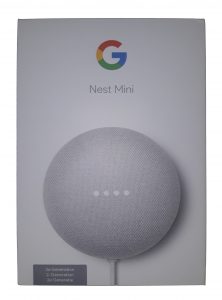 The Google Nest Mini speaker is more than just a speaker. It is actually a connected speaker that acts as an assistant.
It allows you to listen to music, set an alarm, know the weather, get information on current events and also control the connected objects of the house, if they are compatible.
In terms of characteristics, this speaker has three touch buttons: Volume Plus, Volume Less and Play / Pause. The enclosure is 42 mm high and 98 mm in diameter, weighing 181 g. It has indicator lights which are used to know whether the Assistant is active or not.
The Google Nest Mini has a Quad-core ARM 64-bit 1.4 GHz processor, three ultra-sensitive microphones and a physical button on the side to enable / disable the microphones.
It is available at 59 euros on the Google Store (link to product sheet).
Google offered one to its Premium Youtube subscribers.
My feedback
After several days of testing, I must say that I am not disappointed with this speaker. I didn't really know what to expect before using this product, so I was guided by its functionality to test it.
The enclosure is rather well studied, despite some slight faults. Here is the summary of the positive and negative points.
Good points
Google Nest Mini works over Wi-Fi, so there is no distance limit between the phone and the speaker. Both devices must however be on the same WiFi coverage.
A physical switch on the speaker makes it possible to activate / deactivate voice recognition mechanically.
The speaker is capable of hearing and distinguishing sounds as well as a human (if not even better). It is possible to chat with the speaker more than 3 or 4 meters without raising your voice, if the sound is not too loud. Or even being in a room next door.
There is a notch on the back of the speaker so you can attach it to a wall with a screw.
Thanks to the Voice Match function, the speaker is able to distinguish the voices of different users to offer them a personalized experience. This feature can be turned on / off in the Google Home app settings.
It is possible to send (cast) the sound to the speaker from a smartphone, tablet, computer or any other device that is connected to your Google account, and that is on the same home network (wifi)
The speaker can operate in complete autonomy (without smartphone or other device) when configured on the network.
It is possible to cast a video from your PC or smartphone to the speaker. More informations
Negative points
Too invasive: the enclosure requires a lot of personal information. This speaker is made to be your best personal assistant, so Google needs to know a lot about you, your tastes, and your habits to be relevant.
The speaker works with Wifi, so it is impossible to use it in a place without Wifi. In addition, if you take it to friends, you will have to redo all the network configuration of the speaker.
The speaker must be connected to the power, there is no battery. That said, once the ideal location for connecting the speaker has been found, this allows a user with no time restrictions. This makes the Google Nest Mini available 24 hours a day.
Unpacking and first configuration
In the box you will find the speaker, the power cable and a quick user guide.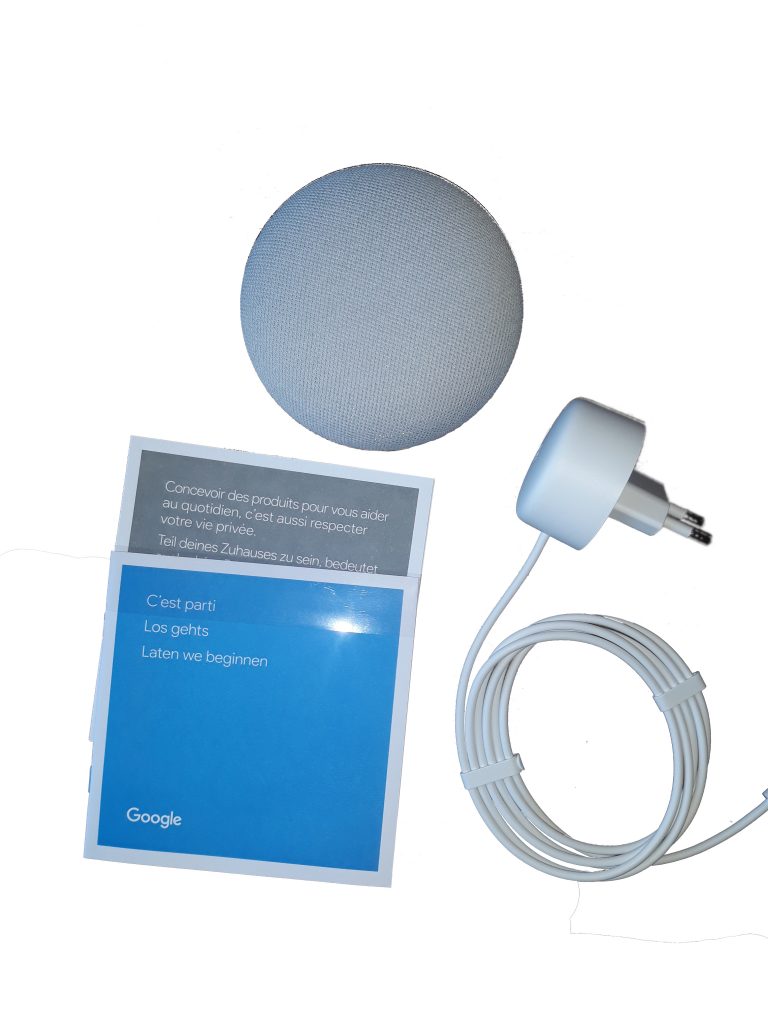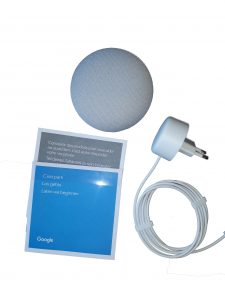 To configure and use your new speaker, just follow the steps below
Connect your speaker to the mains using the power cable.
Download and install the Google Home app if you haven't already. This application, available on Android and iOS, allows you to configure and manage your connected devices.
On the application, add a house (it is a virtual space in which you can add all your connected devices). Then in this house, add the speaker and configure it. Take the time to read each option carefully to be sure that the application meets your needs in terms of functionality and confidentiality.
More information : Set up Google Nest Mini - Step by step (article to come)

Subscribe to the newsletter at the bottom of this page to be informed when the article is ready 😉
Bonus: suggestion of voice commands
So that you can get a better idea of this speaker and what it offers or so that you can discover new functions offered by the Google Assistant, I have tested several varied commands for you. Here are the ones that work, and the ones that don't work yet.
Orders related to: Volume | Music | Radio | Calculator | Various
Volume control
✔ Turn the sound on ➙ This puts the sound at 100%
✔ Set the volume to 25%
✔ Set the volume to 7 ➙ You can adjust the volume with a number from 0 to 10. In our example, 7 corresponds to 70% of the maximum volume.
✔ Turn down the sound of 50% ➙ This cuts the volume in half
✘ Multiply / Divide the volume by 3 ➙ "Oulalalala, I pass my turn this time, but I am learning from my mistakes".
✘ Increase / Decrease volume by 20 decibels ➙ "It's not on my mind, but I'm learning from my mistakes"
Music and Radio
✔ Change music
✔ Make me listen to Bob Marley
✔ Stop / Resume music ➙ It stops / resets the music
✔ Put on some music that I like ➙ It works in my case. I imagine this only works if Google has already learned your musical preferences from using the Google Play Music app.
✔ What is the name of this music? ➙ "You are currently listening to (music name) from (artist name)"
✔ I like this music ➙ "I noticed that you like this type of content"
✘ What can I listen to?
Calculator
✔ What is the result 14 times 2 ➙ "14 times 2 is 28"
Miscellaneous functions
✔ Are you a dangerous person? ➙ "I would rather describe myself as someone helpful and helpful"
✔ Can you read books? ➙ "There are no audiobooks in your Google Play Book library, you can buy one from the Google Play Store"
✔ Why do you exist? ➙ I'm here to help you
✔ Can you repeat? ➙ "No problem", then she repeats what she said last
✔ Do you like someone ? ➙ "I like to remember this advice from William Shakespeare: Love everyone, trust very little; don't hurt anyone."
Technical characteristics
✘ What is the ideal distance to speak to you? ➙ "I don't see how you are helping, to be honest"
✘ How far should you speak? ➙ "And there is the bug"
✘ Can I unplug you? ➙ "Ouch ouch ouch, you put a glue on me"
Conclusion
The Google Nest Mini is fascinating and bodes well for good. She is an extraordinary and rather practical assistant. It is already full of potential despite a few small gaps. The speaker repeats it when she has not understood a question: "I am not perfect, but I am improving day by day". It is very convenient for listening and controlling your music, as well as for doing other tasks without staring at your phone.
Despite all these positive points, one thing bothers me in this type of enclosure: it is the total intrusion into privacy. To function properly and offer so many features, the Google Nest Mini must be anchored in the home and in the daily life of the user. She must constantly listen to what is around her, so that she can respond to you when you speak to her. Note that only voice commands said after "OK, Google" are saved in your personal history. You can deactivate or delete voice backups on myactivity.google.com, by unchecking the option "Include voice and audio recordings".
The more she knows about you the more it will be functional and relevant. But without this intrusion into our personal space, all the services offered by the speaker would not be functional and the Google Nest Mini would be just one speaker among many others.
I rather trust Google and I do not think that the data collected will be used for bad purposes. However, even if Google is very secure and transparent with regard to the data collected and their use, zero risk does not exist. If a hacker or a government succeeds in accessing its data, you might as well be exposed. All this data collected provides enough information to trace your life and know who you are: habits, history of voice commands, preferences, history of GPS positions, etc.
Tell me what you think of the concept of this speaker in the comments 😉