Dans un souci de clarté de l'image et de développement de l'entreprise, Kickass Music est devenu Tune Music
Note : Kickass Music est l'équivalent de Spotify ou Deezer en version gratuite
Learn more
C'est à s'y perdre un peu ! Lorsque l'on cherche "Kickass Music" sur Google, aucun résultat ne mène directement vers le site. Et pour cause l'adresse internet qui correspondait à ce nom n'existe plus. Tout comme le nom Kickass Music.
We must now say Tune Music. Try in Google and you will find that you will find more easily what you are looking for. The new address is tunemusic.co
reshuffle
C'est dans le but de soigner l'image de la plateforme de musiques, et de ne pas freiner la croissance de l'entreprise, que le nom a été remanié.
Le site et l'application pour smartphone restent inchangés, seul le nom a été modifié.


Le changement de nom a été réalisé au alentours du 21 août 2018. En effet c'est ce jour là qu'on trouve sur the Facebook page of the site a post with the new name. A few days later a message confirms the name change.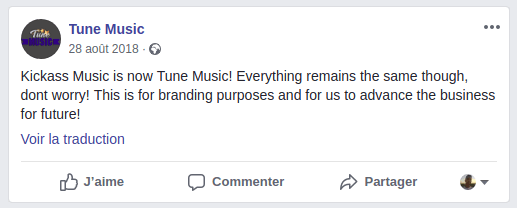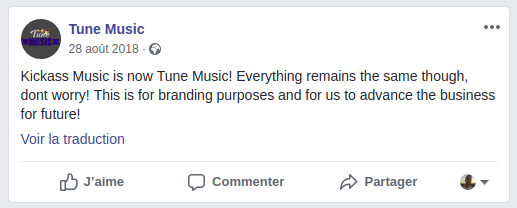 Translation
Si on traduit de manière approximative l'ancien nom et le nouveau, on passe de the music of thunder, the music that tears at set / tune music