Pi is a new emerging cryptocurrency developed by students from Standford. The project is still in the development stage but it is already possible to acquire this currency for free. Here are more details on this very promising project.
Pi Network, une cryptomonnaie accessible à partir d'un smartphone
The Pi is a currency in development. In order to spread this cryptocurrency to the greatest number of people, it is possible to mine this currency for free up to a certain stage in the development of the project.
The logic of distributing this currency among users is simple: the more you contribute to the project, the more Pi you earn. Naturally, users who have supported this project for a longer time will therefore have accumulated more currency than young users.
To participate and support this project, simply install the Pi Network application on Android or iOS then create an account by logging in with Facebook or using your phone number. To finalize the creation of your account, you must provide an invitation code so as to link your account to a trusted person. You can therefore use the code of a member of your entourage. If no member of your entourage is already present on the Pi Network, I suggest my invitation code: thaydan23
Note: The sole purpose of collecting your phone number or connecting to your Facebook account is to allow your wallet to be restored in the event of your smartphone being lost or reset.
Once your account is created, you can instantly start mining Pi. To do this, simply click on the small flash in the right sidebar of the application to launch a mining session. These sessions last 24 hours and you must repeat this maneuver at the end of each session. This allows Pi Network developers to know the number of users actively present on the project. This will help them to have weight when launching the currency on the financial markets, during the third phase.
The three phases of the project
The project is divided into three phases. As of this writing, we are in the second phase. Here is a summary of the different phases:
Phase 1
Durant cette phase, le système a été développé et distribué. Le but a été de tester le fonctionnement du système et d'apporter des améliorations.
Phase 2
Le logiciel Pi Node, qui permet de décentraliser la monnaie, a été lancé et distribué en version beta sur un réseau test. Le but est de tester, améliorer et répandre le système de décentralisation. Pi Node est disponible sur PC et Mac pour le moment.

Durant cette phase, les utilisateurs sont amenés à valider leur compte Pi Network avec Yoti, l'application de validation d'identité KYC sur internet. C'est une bonne idée de la part des développeurs de Pi Network de passer par Yoti pour valider les comptes : cela leur assure que les comptes sont liés à de vraies personnes, sans que nous soyons obligés de donner à Pi Network nos documents d'identités officiels. Yoti est un intermédiaire. Les seules données que récupère Pi Network à travers Yoti sont : la photo de profil, le nom complet, la date de naissance, le numéro téléphone portable et l'adresse email.
Phase 3
Lorsque le système de décentralisation sera opérationnel, le réseau principal officiel de Pi sera lancé. La blockchain sera alors entièrement décentralisée. À partir de cette phase, il sera possible de commencer à retirer ou échanger les Pi contre d'autres monnaies, telles que l'euro ou le dollar par exemple.
In phase 3, Pi users will also be able to create a personal storefront that will serve as a point of sale to offer goods and services to other members of the Pi Network.
How much can we earn?
Par défaut, chaque utilisateur gagne 0.10 Pi/heure (taux actuel), soit environ 73 Pi/mois.
Si vous êtes impatient d'avoir plus de Pi, vous pouvez inviter des personnes de votre entourage à rejoindre le projet. Cela ajoutera environ 0.05 Pi/heure et par personne invitée.
Enfin lorsque vous avez fait plus de 3 sessions de minage et que vous avez parrainé 3 personnes ou plus, une fonction se débloque et vous permet de créer un Cercle de Confiance (Security Circle). Les personnes de confiance que vous ajoutez dans ce cercle contribuent à la sécurité du réseau Pi et à l'intégrité de votre compte. Ces personnes de confiance sont autant de personnes qui peuvent "prouver" que vous êtes une personne réelle et de confiance sur le réseau. Et vice versa, en remplissant votre cercle de confiance, vous indiquez au réseau que les personnes de votre cercles sont des personnes fiables.
Pour vous remercier de cette participation à la sécurité du réseau Pi, vous gagnez en plus jusqu'à 0.10 Pi/heure (taux actuel).
As I said before, we are currently in phase 2 of the project. At this point Pi Network is not connected to the financial markets, the Pi therefore has no value. You have to wait for phase 3 before the Pi you mined start to gain value. This phase should happen in less than a year.
Note that the distribution of Pi is limited. If you could get it indefinitely, the Pi would have no value. The distribution system works as follows: when the number of users of the Pi network is multiplied by 10, the earnings per hour are divided by 2. Thus, as the number of users increases, the number of Pi distributed per user decreases, until it is no longer possible to earn it. By then, all of the Pi will have been fully distributed and distributed.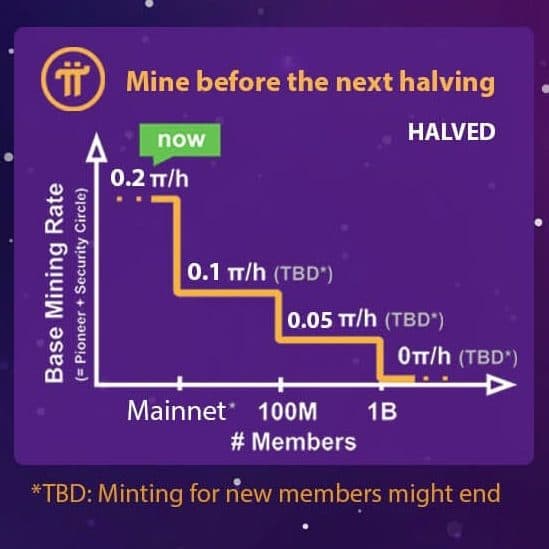 How can the Pi gain value?
From phase 3, the Pi will go public and start to gain value. The value of a Pi will depend on the number of users on the Pi Network and more generally on the notoriety of this currency. If this currency is used by many people and attracts large investors, the value will increase. The more investors there are who want to appropriate this currency, the more the Pi will increase in value because it will become rare. It is the law of the market.
To give you an idea of the possible evolution of the value of Pi, you can compare this to the evolution of Bitcoin. Of course this is only an indication because many parameters are not the same.
As a reminder, when it was launched in 2008 Bitcoin was worth less than a euro. Today, its value varies around 8000 € (at the time of writing this article). We can retain two notable peaks in the evolution of the value of Bitcoin: a first peak in December 2017 where the price of a Bitcoin was higher than 16700 euros; and a second peak at the end of June 2019 where the price was higher than 10400 euros.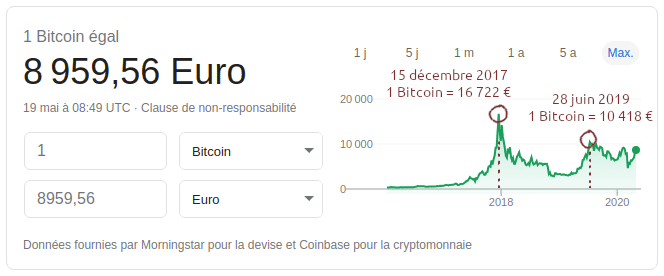 Conclusion
Personally, I think this currency has potential and that's why I tell you about it in this article. I note several positive points:
the ease of use and accessibility of this currency
the fact that it is possible to mine it directly with your smartphone
the fairly fair and equitable distribution of Pi, whoever supports and contributes to the Pi Network is rewarded in proportion to their participation
the Pi Network application is very light and consumes very few resources, due to the system used by Pi Network, unlike Bitcoin.
En ce qui concerne la valeur que le Pi prendra dans le temps, il n'est pas possible de prédire de manière fiable si le Pi dépassera un jour la valeur du Bitcoin, car trop de facteurs sont aléatoires ou inconnus pour le moment. Je pense cependant que cette monnaie a beaucoup de potentiel et à mon avis elle devrait bien se développer au cours des années à venir. À titre d'information, la monnaie a été lancée le 14 mars 2019 et compte déjà plus de 21 millions d'utilisateurs à travers le monde (le 24 juillet 2021).
Download Pi Network: Android (Play Store) | iOS (App Store)
Invitation code if you don't have one around you: thaydan23
Official site : https://minepi.com/
Complete documentation: https://minepi.com/white-paper
Frequently asked questions in French: https://minepi.com/faq?lang=fr
Facebook page : https://www.facebook.com/PiCoreTeam/
Twitter: https://twitter.com/PiCoreTeam
LinkedIn: https://www.linkedin.com/company/pi-net/