Today I'm going to introduce you to a new crypto-currency called Hi Dollars.As Pi Network,you can get it for free at the moment. I'll explain everything there is to know about it.
What is Hi Dollars?
Hi Dollars is a new crypto-currency launched a few months ago. It is possible to get it for free every day like other crypto-currencies such as Pi Network or Bee Network. The difference of Hi Dollars is that it is not only intended to become a new crypto-currency. The goal is to replace traditional banks by becoming a virtual bank based on crypto-currencies, not for profit. This bank would then have three advantages:
- higher interests (up to 20% according to their website, it is possible to doubt it, but in any case, higher than with a traditional bank)
- no fee
- instantaneous transactions
For now, Hi Dollars works on the Ethereum blockchain, but in the future they want to create their own blockchain.
Two people are behind this project: Stefan Rüst, former CEO of bitcoin.com, and Sean Rach, former marketing director of crypto.com. Their team has a lot of experience in the field and sufficient funds to believe in the ability to realize their project.
A project in five phases
The first phase is the current phase. It is possible to collect Hi Dollars for free, to sponsor these friends and to buy Hi Dollars.
The second phase includes launching hi on web and mobile, charging interest on owned cryptos, making transactions and accessing benefits like cashback.
The third phase will make it possible to deposit, exchange, send and withdraw traditional currencies, plus the addition of a virtual debit card and the possibility of investing with Hi Dollars.
The fourth phase will mark the launch of noncustodial portfolios. That is, the user has total control. No matter what happens to Hi Dollars, the person retains access to the cryptocurrencies in their wallet and they can continue to transfer them. During this phase, there will also be the launch of the Hi Protocol, their own blockchain.
The fifth phase will allow the Hi ecosystem to expand with the addition of various services such as games, social networking, telecommunication and much more.
How to earn Hi Dollars for free?
Let's finally get to the part that really interests us!
The project being in phase 1 for the moment, it is possible to collect Hi Dollars for free.
The advantage of Hi Dollars is that it doesn't require you to additionally install an app to use it and collect the crypto currency. You can use for the moment WhatsApp, Telegram or their site. Soon it will be possible to use other communication platforms like Messenger.
To register, you need a refferal code, here's my link: https://hi.com/Matheo
Enter "Matheo" if you are asked for a code.
To create an account, you only need to enter your phone number, and you have to be over 18. Par la suite, pour retirer ou utiliser votre solde, il faudra faire une vérification d'identité KYC (Know Your Client). Cette vérification permet de s'assurer qu'une personne n'a qu'un compte. Il est possible de faire la vérification directement après avoir créé votre compte.
To earn free Hi Dollars, you simply claim a daily reward by answering a question like "What is your favorite movie?". By answering the question, you win 1 Hi per day.
As the number of users increases, the number of Hi earned decreases. Initially it was 100/d, once 25,000 users were reached, it dropped to 25/d and so on. Currently, there are 1,132,768 users (as of 20/08/2021).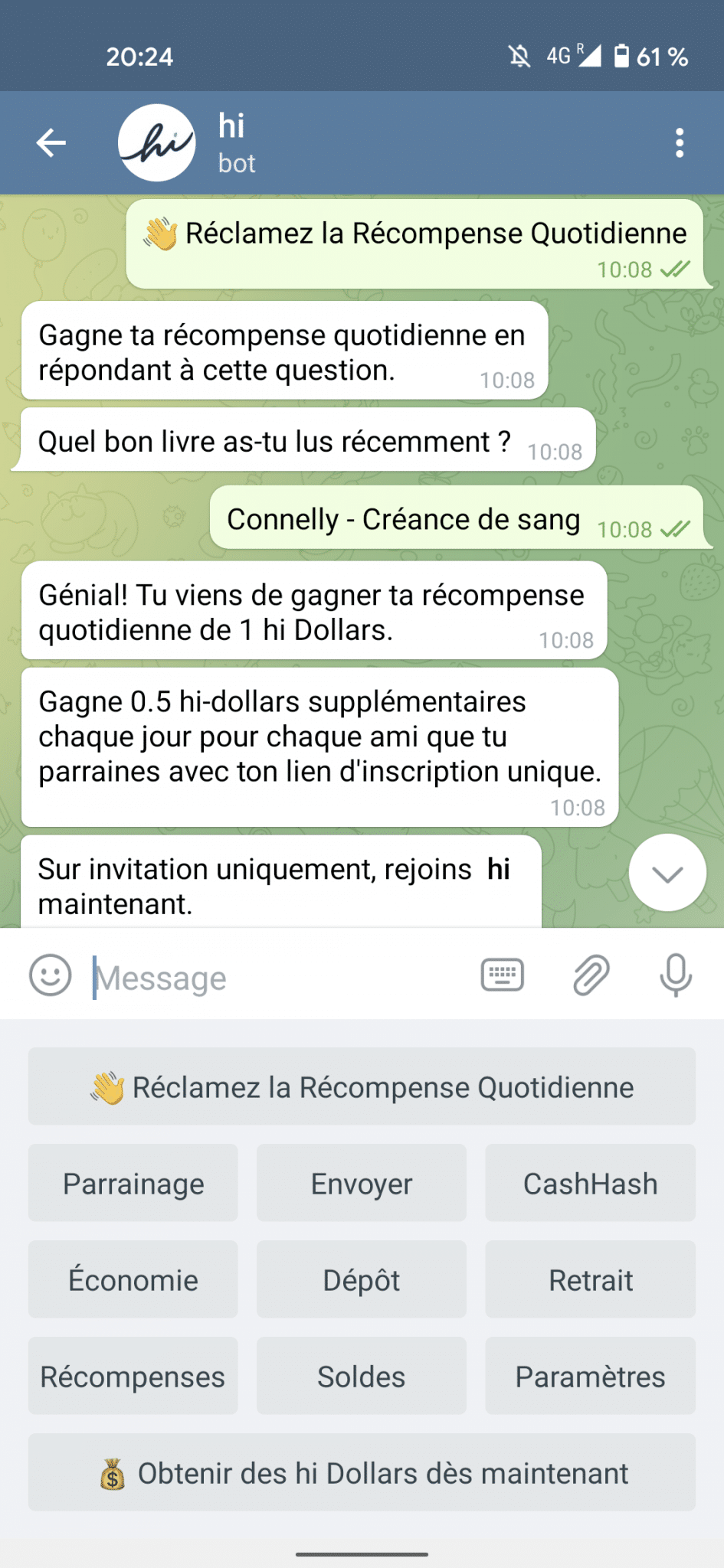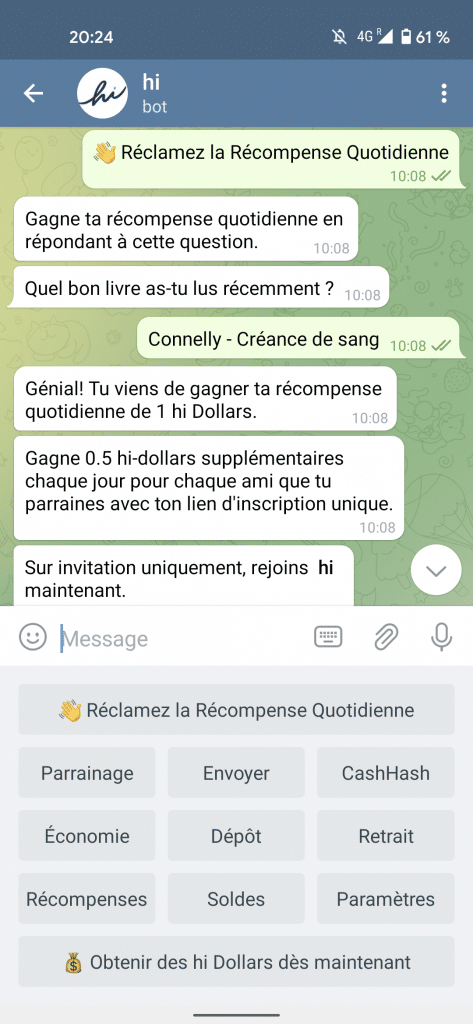 If the daily reward is not enough for you and you want to earn more Hi Dollars, you can refer your friends and win 50% of their earnings. That is, you earn 0.5 Hi per day.
My review of Hi Dollars
Hi Dollars is a promising project that I want to believe in. It has serious arguments. These founders have the experience to make it happen. The main point is that you have nothing to lose. There is no investment. At worst, you will have lost a few minutes of your life.
I can't guarantee the success of this project, I'm just giving you my opinion. I think that what is proposed is solid. It is also possible to buy Hi Dollars, but I advise you to do only the free part to avoid taking risks.
After reading this article, what do you think? Will you give it a try?
If you want to have more information, here is their FAQ and their WhitePaper.
Here is the video presentation of Hi Dollars