On Android, the quality of photos sent by MMS is often poor. Here's a tip for sending a good quality photo by MMS
Where does this problem come from?
La photo envoyée est de qualité réduite car elle est compressée par l'application SMS/MMS de votre smartphone pour être plus légère avant d'être envoyée. Il est possible de configurer la taille des MMS sur Android ou sur IOS. Certaines applications permettent d'augmenter la taille maximale d'envoi, ce qui permet de diminuer le taux de compression et donc d'augmenter la qualité de la photo. Malheureusement tous les smartphones ne permettent pas de régler ce paramètre.
Change the sending size on smartphones that do not offer the function to send a good quality photo by MMS
To avoid that the sent photos are blurred, it is possible to use Snapchat, WhatsApp, ... but there is also a loss of quality. Fortunately, there are several applications that allow you to send heavier photos and therefore less compressed like: Messenger, Textra, ... Personally, I use Textra (available only on Android), where it is possible to choose between several file sizes to have a higher sending quality (100 Kb, 200 Kb, 300 Kb, 600 Kb, 1000 Kb and 2000 Kb). Textra works like the original SMS/MMS applications, but with a different interface. This application has the particularity of allowing you to customize the colors, choose a different notification sound depending on the contacts, etc...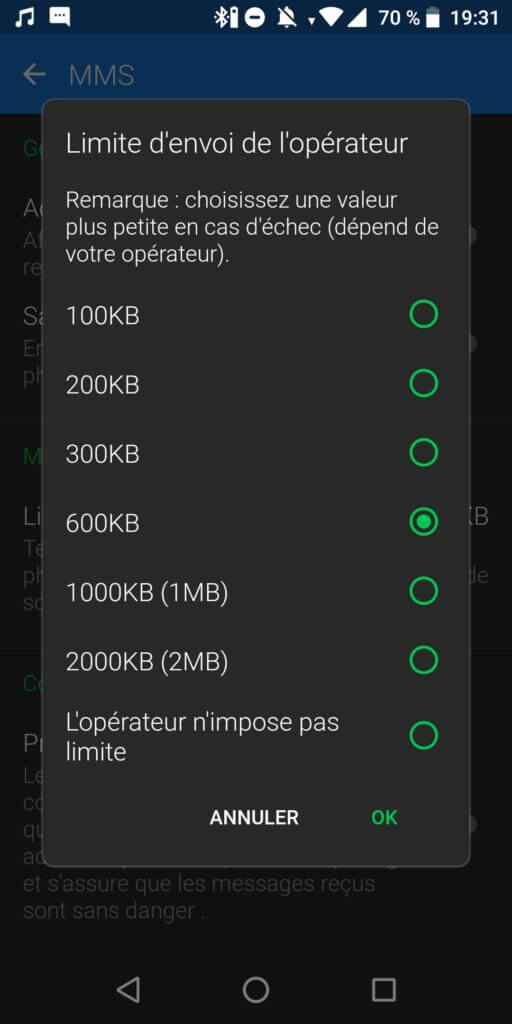 It is important to know that the operators also limit the maximum size of the shipments. So you have to choose the appropriate size in the application. With Bouygues and SFR the limit is 600 Kb, the same with Orange. With Free mobile, the limit seems to be set at 600 Kb. These values may vary depending on the offers. If you don't know what the maximum size allowed by your operator is, you can try to choose a high enough size and send a picture. If it is too large, the upload will fail.
The application of Google messages is also very good. Its interface is more similar to the classic interfaces. The presentation is sober, simple, which is nice to see. It is also possible to have access to your conversations from a computer. A dark theme is also available. In addition, there are many settings to customize it. Again, the notification ringtone can be different depending on your contacts. Using this application, you don't have to make any settings, you can send a good quality photo by MMS directly.
Do not hesitate, if you have a question, to ask it in the comments.
Read also : InvisibleShield: the screen protector of the future