On Android, the quality of photos sent by MMS is often poor. Here's a tip for sending a good quality photo by MMS
D'où vient ce problème ?
La photo envoyée est de qualité réduite car elle est compressée par l'application SMS/MMS de votre smartphone pour être plus légère avant d'être envoyée. Certaines applications permettent d'augmenter la taille maximale d'envoi, ce qui permet de diminuer le taux de compression et donc d'augmenter la qualité de la photo. Malheureusement tous les smartphones ne permettent pas de régler ce paramètre.
Modifier la taille d'envoi sur les smartphones qui ne proposent pas la fonction pour envoyer une photo de bonne qualité par MMS
Pour éviter que les photos envoyées soient floues, il est possible d'utiliser Snapchat, WhatsApp, … mais il y aussi une perte de qualité. Heureusement, il existe plusieurs applications permettant d'envoyer des photos plus lourdes et donc moins compressées comme : Messenger, Textra, … Personnellement, j'utilise Textra (disponible seulement sur Android), où il est possible de choisir entre plusieurs tailles de fichier pour avoir une qualité d'envoi supérieure (100 Ko, 200 Ko, 300 Ko, 600 Ko , 1000 Ko et 2000 Ko). Textra fonctionne comme les applications de SMS/MMS d'origine, mais avec une interface différente. Cette application à la particularité de permettre de personnaliser les couleurs, choisir un son de notification différent en fonction des contacts, etc…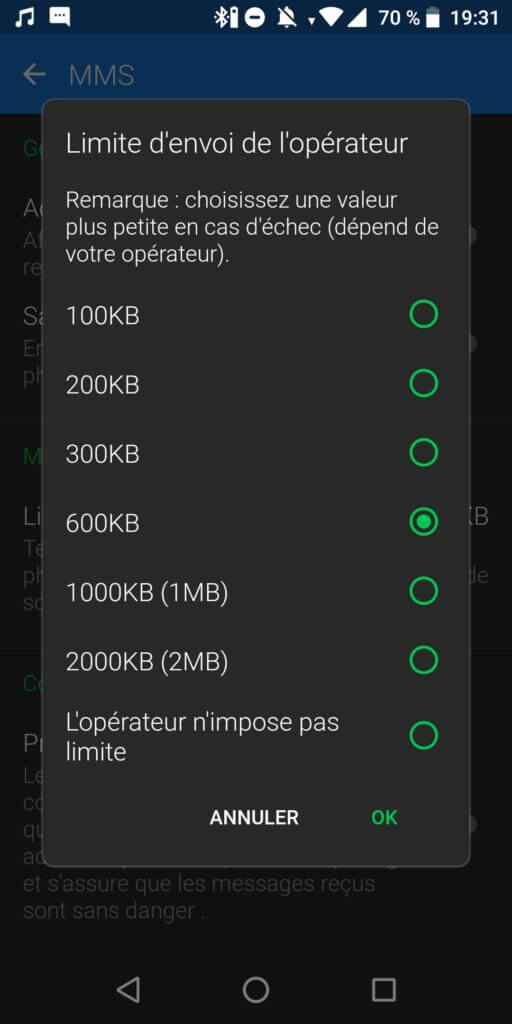 Il faut savoir que les opérateurs limitent aussi la taille maximum des envois. Il faut donc choisir la taille adaptée dans l'application. Chez Bouygues et SFR la limite est 600 Ko, de même chez Orange. Chez Free mobile, la limite semble être fixée également à 600 Ko. Ces valeurs peuvent varier en fonction des offres. Si vous ne savez pas quelle est la taille maximum autorisée par votre opérateur, vous pouvez essayer de choisir une taille assez élevée et d'envoyer une photo. Si c'est trop élevé, l'envoi échouera.
L'application de Google posts est aussi très bien. Son interface est plus similaire aux interfaces classiques. La présentation est sobre, simple, ce qui est agréable à voir. Il est aussi possible d'avoir accès à ses conversations depuis un ordinateur. Un thème sombre est aussi disponible. De plus, de nombreux paramètres permettent de la personnaliser. Encore une fois, la sonnerie de notification peut être différente en fonction de vos contacts. En utilisant cette application, vous n'avez aucun réglage à faire, vous pouvez envoyer une photo de bonne qualité par MMS directement.
N'hesitez pas, si vous avez une question, à la poser dans les commentaires.
Read also : InvisibleShield: the screen protector of the future