In recent months Bouygues Télécom has started to market screen protection for a new generation smartphone. This protection is called InvisibleShield and it defies the laws of physics.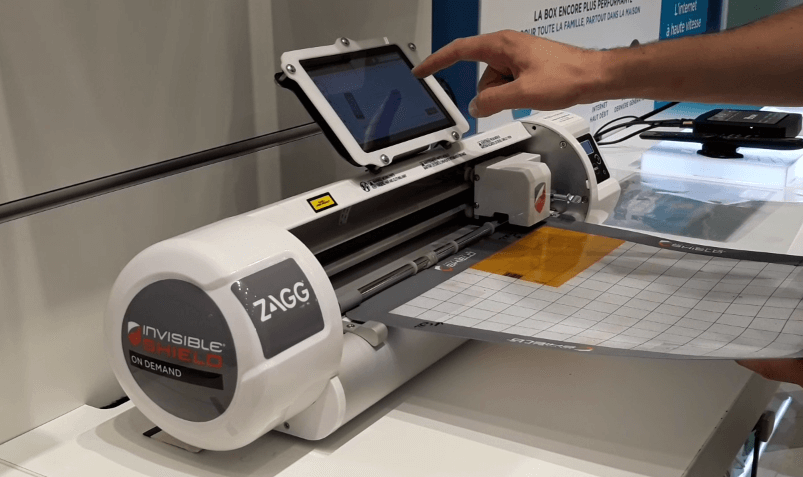 You said InvisibleShield?
It is indeed the name of this little marvel of technology. This extraordinary protective film, designed by the Zagg brand, offers screen protection previously unmatched.
Indeed the material used is self-regenerating. It allows resistance to shocks and scratches while providing a thin and almost invisible protection.
This video shows you the prowess of this technology
The story of InvisibleShield?
InvisibleShield is a protective film originally invented to protect the blades of army helicopters. It is made up of several layers of polyurethane combined with "nanotechnology" of which we have no more information.
After some modifications in the composition, the material was adapted for use on smartphones and for marketing by the company ZAGG.
Where to find Invisibleshield?
Bouygues Telecom is one of the first merchants to offer this revolutionary product. Since a few months, it is found in seven of its shops, to my knowledge.
The pose is made to measure thanks to a machine that takes into account the model of the smartphone and the free surface, reduced or not if you have a shell or not. Depending on the smartphone the pose takes about one to two minutes.
You will find InvisibleShield in the following Bouygues Télécom stores: St Gilles Croix de Vie, Château d'Olonne, Hyper U La Roche sur Yon Les Flâneries, Fontenay-le-Comte, Les Herbiers, Niort and Cholet. You can also find this product in certain Boulanger stores, in certain telephone repair or accessory shops, or in certain supermarkets.
Similar protections are available in some stores, but with lower quality. This is particularly the case at Cash and Repair. Their film is thinner, does not regenerate, and shifts over time. Make sure the machine is of the Invisible Shield brand.
With the agreement of Bouygues Télécom I was able to film the pose to show you a little more
What are the prices ?
The rates charged by Bouygues Telecom are as follows:
39.99 euros for a simple screen
59.99 euros for a double sided (for smartphones with a glass on the back)
The protective films are guaranteed for life for the same smartphone. That is to say that if you have to change the protection you will only pay 10 euros for the replacement. For "double-sided" smartphones the price is 10€/film, however you are not obliged to change both.
Conclusion
This screen protector has everything to seduce, it regenerates, it resists shocks and scratches. It is a product that I recommend to all those who want to protect their screen for the long term.
I note however a small flaw. Protection will deteriorate on contact with perfume or alcohol, due to its very particular composition. That said, these situations are rare and the product is guaranteed for life, so no need to worry 😉
Read also : Ecosia clothing: a gift for nature
Read also : Legally save music from Deezer and Spotify