Google has developed an extension for Chrome that allows you to define and translate words that you do not know on a web page. Here's how to install and use it, as well as similar extensions.
Google Dictionary is an extension dictionary for Google Chrome which allows to define or translate the words of a web page, simply by double-clicking on it.
This extension has not been updated since July 2017, but it remains fully functional.
It is installed on nearly 4.5 million computers.
---
Google Dictionary Installation
Click on the link below to install the extension:

Once the extension is installed, it is necessary configure the language use. For that, make a right click on the extension icon, then click options.

On the configuration page, select your language then save.
The dictionary / translator is now ready to use
---
Use
The use is very simple, there are two ways of action: the double clicks and the selection of a word or group of words.
With the double-click
When browsing a website, just double-click on the word to be defined to display an information balloon with the definition or translation of the word in question.
Once the definition bubble is displayed, you can double-click on a word in the definition to define it.
This system of definition / translation works perfectly with most languages.
Here are several examples
By selecting the text
Another use is possible if you want to translate a sentence or group of words: just select it and then click on the icon of the extension.
Example 1: Define a French word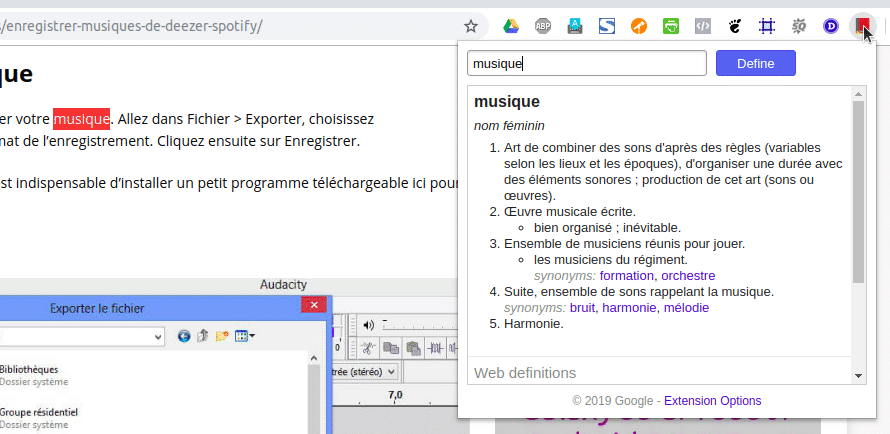 Example 2: translate a word or group of words from another language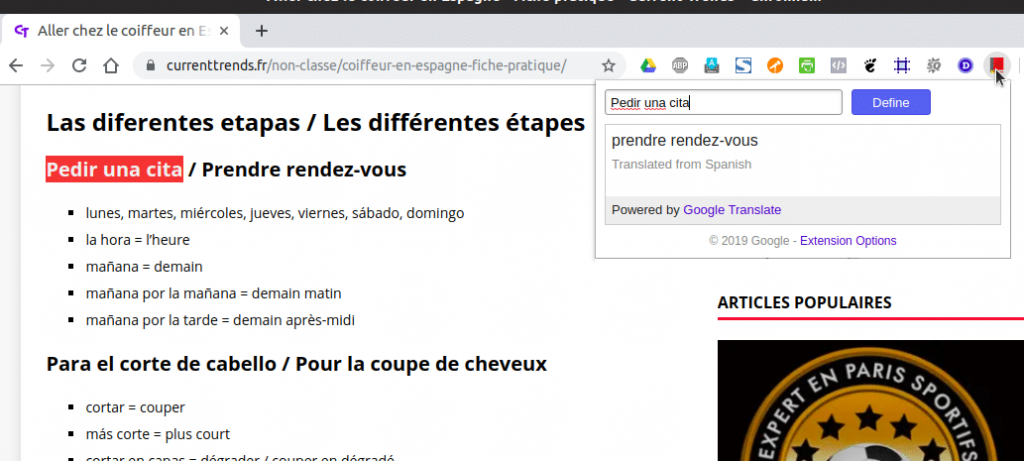 ---
Similar dictionary for Chrome
Note: We have tested several extensions and it seems that Instant Dictionary is the only functional extension that meets the desired criteria.

Instant Dictionary is similar to Google Dictionary. The extension is a little more complete. It allows to know the pronunciation and synonyms of a word, in addition to having the definition. Nevertheless, it is not currently available in French.
---
Similar dictionary for Firefox
We have tried to find you similar reliable extensions for Firefox. Unfortunately no extension was able to live up to our expectations during our tests. An extension similar to Google Dictionary seemed promising but ultimately not functional. Indeed, during our tests, the extension was blocked at the time of the definition / translation of a word. Most of the other extensions that we tested were not in French or only allowed to translate a word from another language without being able to have the definition.
Read also : FinalStraw: eco-foldable steel straw