Certaines autoradios n'ont pas le bluetooth et n'ont pas de prise jack, il est alors impossible d'écouter la musique de son smartphone sur sa voiture. Enfin, c'est sans compter sur le transmetteur FM bluetooth, ce petit boitier qui permet la transmission par onde radio. Voici mon test…
Le transmetteur FM est un petit boitier qui s'alimente la plupart du temps grâce à la prise allume cigare. On en trouve pour une quinzaine d'euros sur le marché. Le principe est simple, vous connectez votre smartphone au transmetteur FM via bluetooth ou par cable et le transmetteur émet une onde radio que vous pouvez alors réceptionner sur l'autoradio de votre voiture.
Setting up the FM transmitter
La mise en place est très simple et rapide. Il n'y a pas besoin d'être un génie pour y arriver. Voici les différentes étapes :
brancher le transmetteur sur l'allume cigare
mettre le contact ou démarrer le moteur pour que le transmetteur FM s'allume
connect the smartphone to the transmitter via bluetooth or cable (see details in the photo below)
régler l'autoradio sur la bonne fréquence (voir détail sur la photo ci-dessous)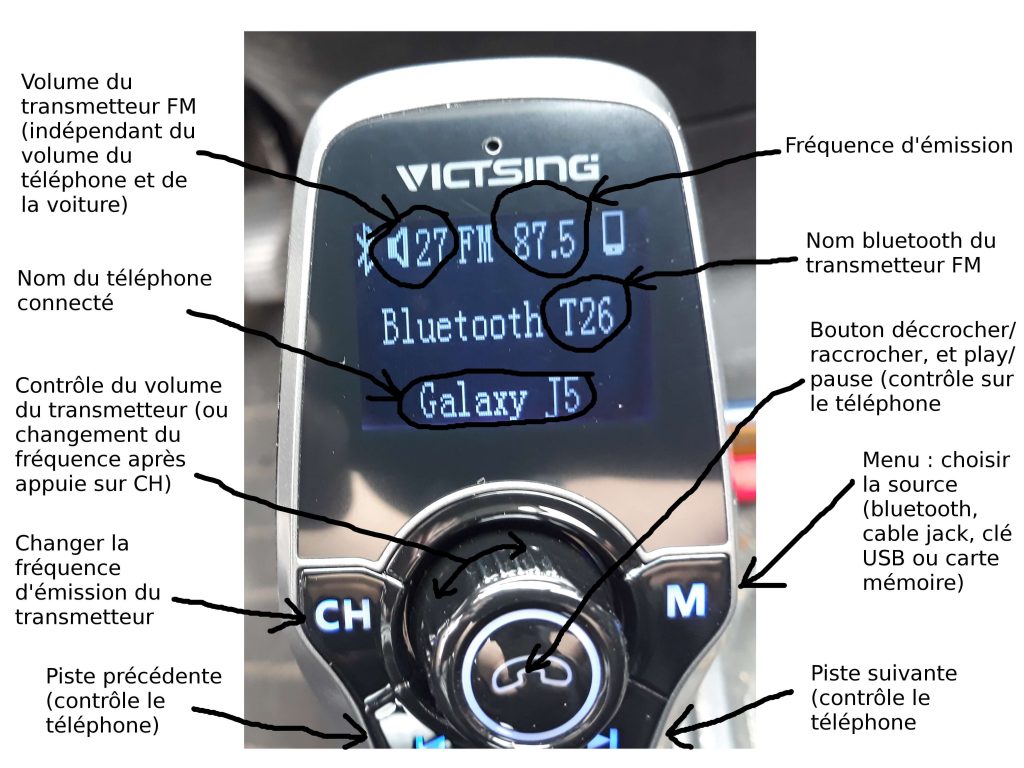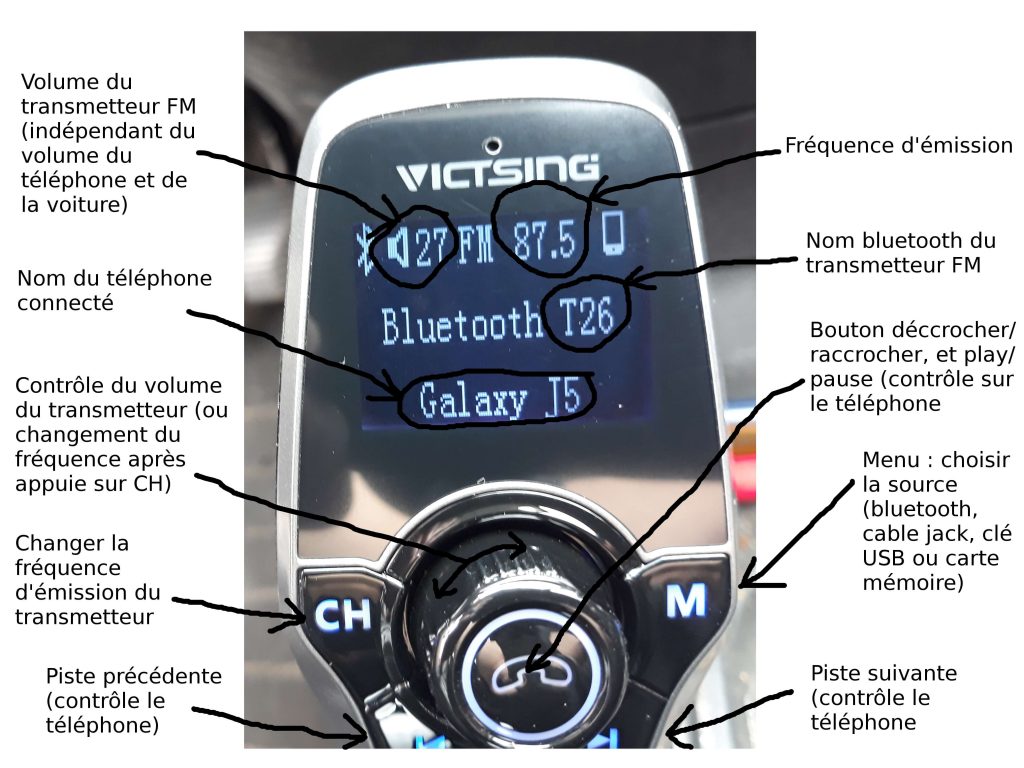 Functional diagram of the FM transmitter
Audio quality
Avec tout ce bricolage pour avoir de la musique sur son autoradio, on peut se demander ce qu'il en ait de la qualité sonore finale. Le résultat est plutôt concluant, mais décomposons cela en deux étapes :
Quality of signal reception
Lorsque tout le dispositif est opérationnel, c'est-à-dire que le téléphone (musique à l'arrêt) est connecté au transmetteur FM et que l'autoradio est réglé sur la fréquence du transmetteur, on a un blanc (ou silence) complet. On a pas de grésillement ou autre. Cela veut dire que la réception est bonne. En même temps l'émetteur (le transmetteur FM) et le récepteur (l'antenne de la voiture) sont très proches. Lorsqu'on démarre une musique on obtient aucun grésillement non plus. Conclusion : la réception est parfaite.
Sound quality
On lance maintenant une musique pour tester sa qualité. Le son est presque aussi bon que celui d'un CD audio. Pour améliorer la qualité du son, voici mes recommandations :
increase phone volume to the maximum
set the one of the transmitter to 2/3 of the maximum
then adjust the one of the car at a good price
Note : malgré ces deux points positifs, on n'est pas à l'abri d'une interférence sur la route, au même titre que la réception des stations radio.
Conclusion
This device has given a second life to my car and cheaply. For a device as inexpensive, I find it very complete since my model accepts bluetooth, cable jack and micro SD memory card.
Le modèle que j'ai commandé : https://www.amazon.fr/gp/product/B06XZ63KY3 Ceci dit il y a plein d'autres modèles intéressants, faites une recherche 😉
To see also: Blu: the free mobile package 100%