Some car radios do not have bluetooth and do not have a jack, so it is impossible to listen to music from your smartphone in your car. Finally, it is without counting on the bluetooth FM transmitter, this small box which allows the transmission by radio wave. Here is my test ...
The FM transmitter is a small box which is powered most of the time by the cigarette lighter socket. You can find it for about twenty euros on the market. The principle is simple, you connect your smartphone to the FM transmitter via bluetooth or by cable and the transmitter emits a radio wave that you can then receive on your car's radio.
Setting up the FM transmitter
The installation is very simple and fast. You don't have to be a genius to do this. Here are the different steps:
connect the transmitter to the cigarette lighter
switch on the ignition or start the engine so that the FM transmitter turns on
connect the smartphone to the transmitter via bluetooth or by cable (see detail in the photo below)
set the car radio to the correct frequency (see detail in the photo below)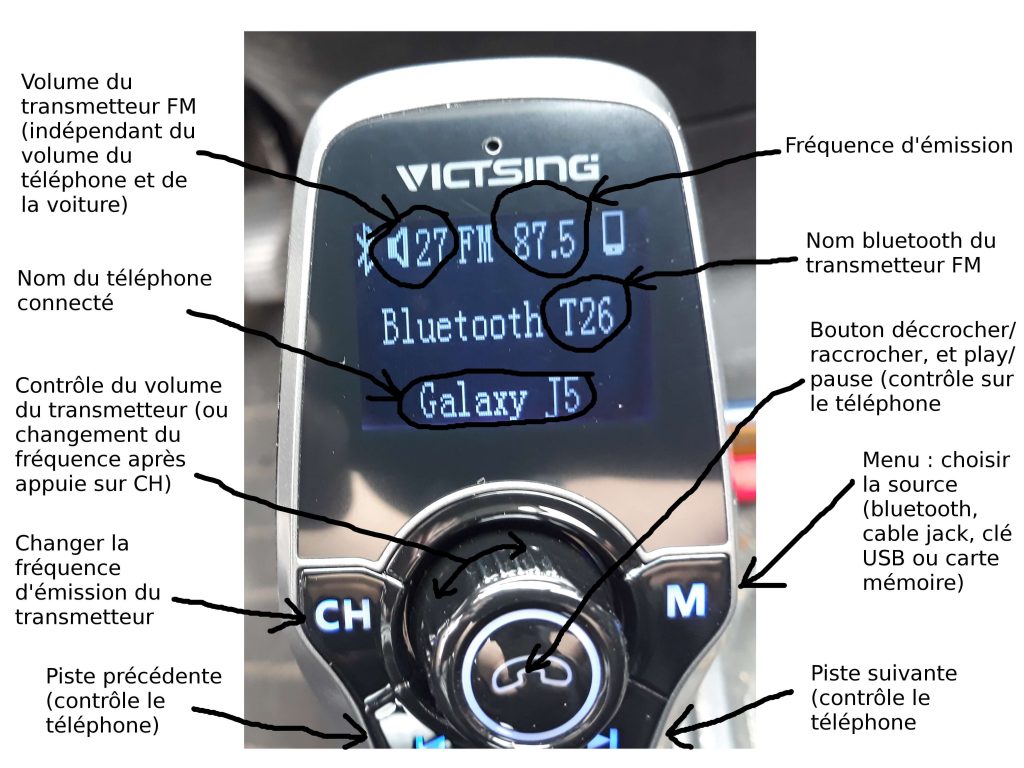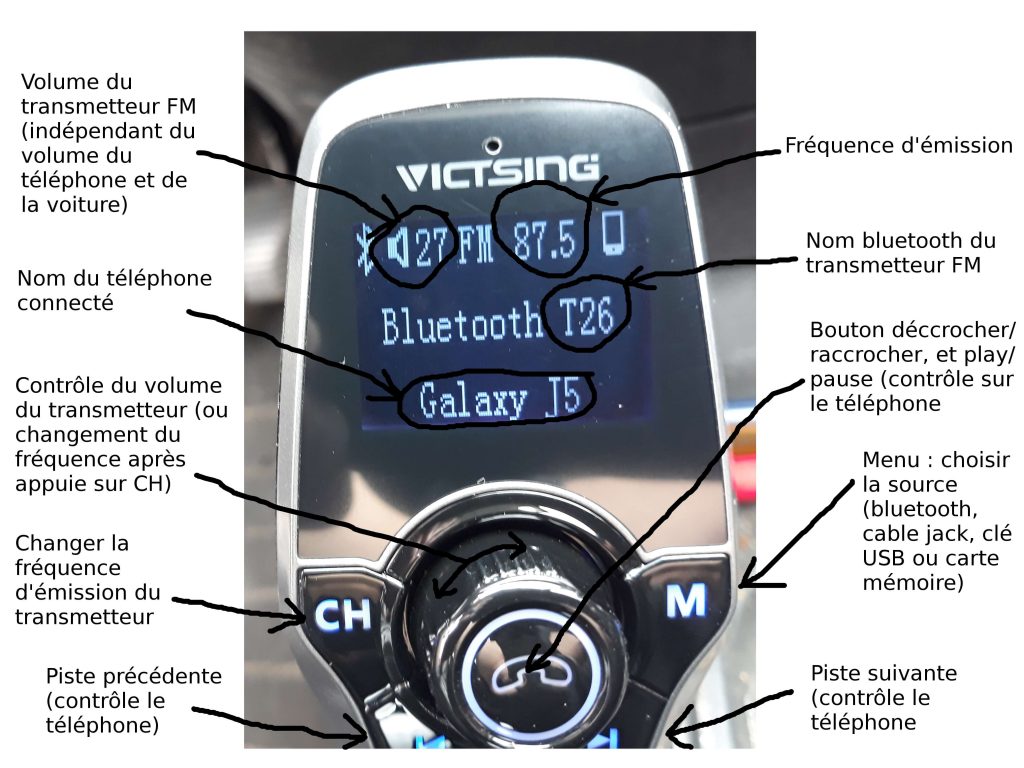 Functional diagram of the FM transmitter
Audio quality
With all this tinkering to have music on your car radio, you may wonder what it has to do with the final sound quality. The result is pretty good, but let's break it down into two steps:
Quality of signal reception
When all the device is operational, i.e. the telephone (music off) is connected to the FM transmitter and the car radio is set to the transmitter frequency, there is a blank (or silence) full. We don't have a crackle or anything. This means that the reception is good. At the same time the transmitter (FM transmitter) and receiver (car antenna) are very close. When you start a music you get no crackling either. Conclusion: the reception is perfect.
Sound quality
We now play a music to test its quality. The sound is almost as good as that of an audio CD. To improve sound quality, here are my recommendations:
increase phone volume to the maximum
set the one of the transmitter to 2/3 of the maximum
then adjust the one of the car at a good price
Note: despite these two positive points, you are not immune to interference on the road, just like receiving radio stations.
Conclusion
This device gave a second life to my car radio and at a lower cost. For such an inexpensive device, I find it very complete since my model accepts bluetooth, jack cables and the micro sd memory card.
The model tested in this article is no longer made, but the principle remains the same for all FM transmitters, to replace it, I suggest a model of the LENCENT brand. That said there are plenty of other interesting models, do a research 😉
To see also: Blu: the free mobile package 100%