Tune Music is a site similar to Spotify, Deezer, Google Play Music,…, it allows you to listen to a lot of music.
Note: since August 2018 Kickass Music has become Tune Music.
The name has been updated in this article to maintain consistency and comprehensibility.
Learn more about the name change
What is so special about Tune Music?
The advantage of this platform is that there is no paid subscription. No advertising disturbs you while listening to songs. Indeed, the site is financed by the advertisements which are displayed on the interface of the site or the application.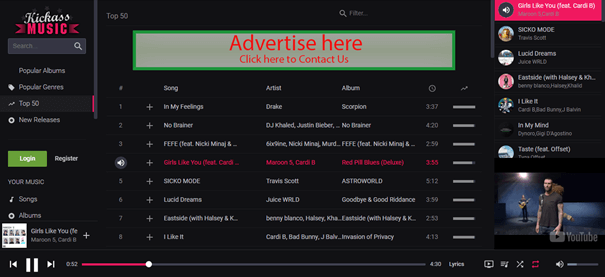 What is Tune Music worth?
After a short use, I find that it is rather promising. Indeed, being able to listen to music without being interrupted is practical. The web interface is intuitive, fairly easy to learn. To work Tune Music uses music from YouTube without having ads. On the site, the video clip is visible, there is also the possibility to display the lyrics of the music (not available on the application). In terms of the application, there would be a few points to improve but it's not bad. When the screen is locked, you cannot see the music that is playing, or pause it or change the song. Unfortunately, offline mode does not exist on the app and the site, which is quite a shame.
In the end Tune Music is a good discovery. It is a good alternative to other music apps. Some modifications will be necessary but it is very promising.
Tune Music uses BeMusic, a service that allows you to create your own music streaming platform. Other sites also use BeMusic and therefore work the same and are similar. This is the case for example of the site DzMusik.