Tune Music est un site similaire à Spotify, Deezer, Google Play Music, …, il permet d'écouter de nombreuses musiques.
Note : depuis le mois d'août 2018 Kickass Music est devenu Tune Music.
The name has been updated in this article to maintain consistency and comprehensibility.
Learn more about the name change
What is so special about Tune Music?
L'avantage de cette plateforme est qu'il n'existe pas d'abonnement payant. Aucune publicité ne vous dérange pendant votre écoute de morceaux. En effet, le site est financé par les publicités qui s'affichent sur l'interface du site ou de l'application.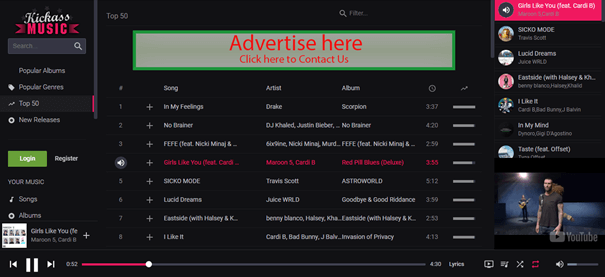 What is Tune Music worth?
Après une courte utilisation, je trouve que c'est plutôt promettant. Effectivement, le fait de pouvoir écouter la musique sans être interrompu est pratique. L'interface web est intuitive, assez simple à assimiler. Pour fonctionner Tune Music utilise la musique de YouTube sans avoir les pubs. Sur le site, le clip vidéo est visible, il y a aussi possibilité d'afficher les paroles de la musique (non disponible sur l'application). Au niveau de l'application, il y aurait quelques points à améliorer mais c'est pas mal. Quand l'écran est verrouillé, on ne peut pas voir la musique qui est en cours de lecture, ni la mettre en pause ou changer de morceau. Malheureusement, le mode hors ligne n'existe pas sur l'application et le site, ce qui est assez dommage.
Au final Tune Music est un bonne découverte. C'est une bonne alternative aux autres applications de musiques. Quelques modifications seront nécessaires mais c'est très prometteur.
Tune Music uses BeMusic, un service qui permet de créer sa propre plateforme de streaming musical. D'autres sites utilisent également BeMusic et fonctionnent donc de la même manière et sont semblables. C'est le cas par exemple du site DzMusik.