Searchfeedtech.com is a kind of malware that adds advertising links in your Google results. Here's how to remove it
Vous avez sûrement remarqué que ce malware n'opère que sur le navigateur Chrome ou Chromium. C'est donc un malware qui est incrusté dans Chrome, et plus précisément dans une extension.
How does searchfeedtech.com work?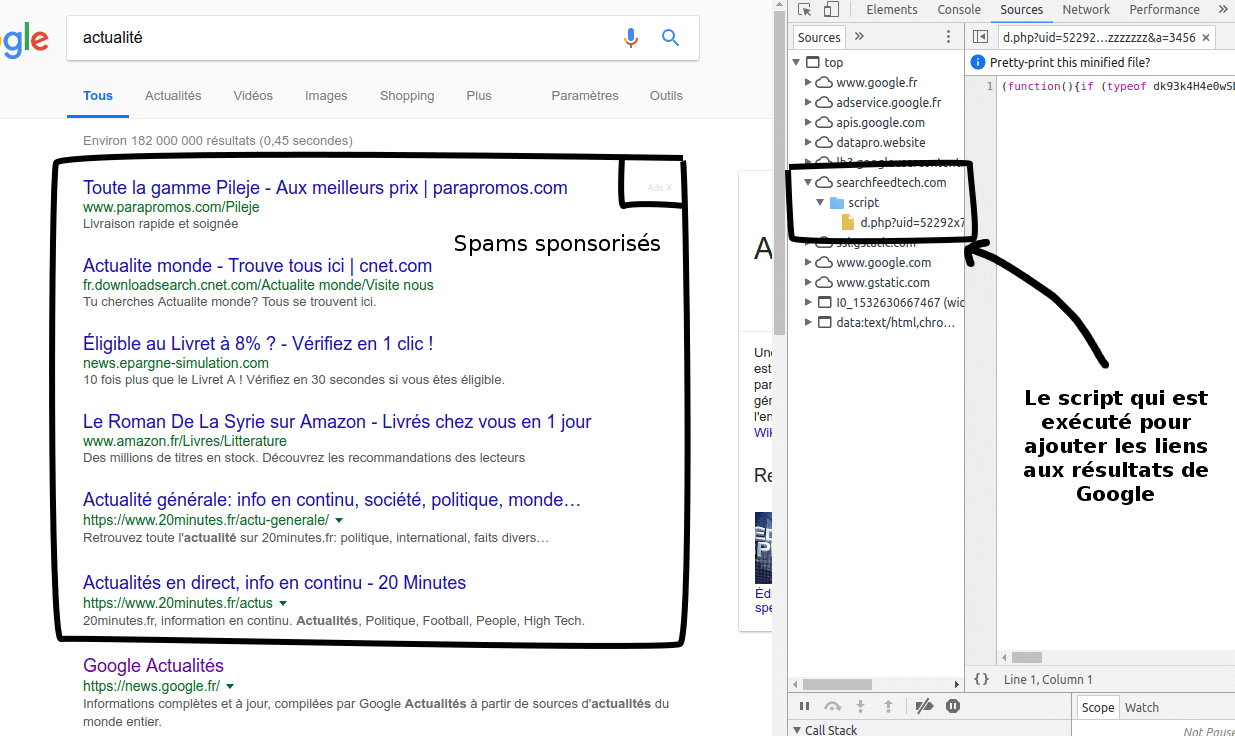 Ce malware est en fait un simple script qui s'execute en arrière-plan et qui insère des liens aux résultats de Google. Vous pouvez le repérer grâce aux outils de développement du navigateur (touche F12).
Après quelques recherche, j'ai compris que le script était fourni par une extension de Google Chrome. J'ai donc désactivé mes extensions les unes après les autres pour savoir qu'elle était l'extension en question. Je me suis rendu compte que c'était l'extension "Page Ruler". Une extension pourtant bien pratique pour mesurer des largueurs ou des hauteurs lors de la création de sites internet.
Pour ne pas faire d'amalgame avec d'autres extensions nommées "Page Ruler", je parle ici de l'extension qui porte l'id : jlpkojjdgbllmedoapgfodplfhcbnbpn
L'application n'est plus mise à jour depuis un certain temps et a d'ailleurs été supprimée du Chrome Store. Elle reste néanmoins fonctionnelle sur les navigateurs où elle n'a pas été supprimée.
How to remove searchfeedtech.com?
Il suffit de désactiver l'extension Page Ruler et de la supprimer. Vos résultats de recherche reviendront alors à la normale.
Si vous ne trouvez pas l'extension "Page Ruler", c'est que c'est une autre extension qui injecte le script. En effet, il n'y a pas que Page Ruler qui fait ça, d'autres extensions l'ont déjà fait et d'autres le feront encore. Il faut donc que vous désactiviez vos extensions les unes après les autres pour connaître l'extension malveillante.
For those who wanted to Page Ruler, do not worry there are some similar extensions on the Chrome Store: https://chrome.google.com/webstore/search/page%20ruler