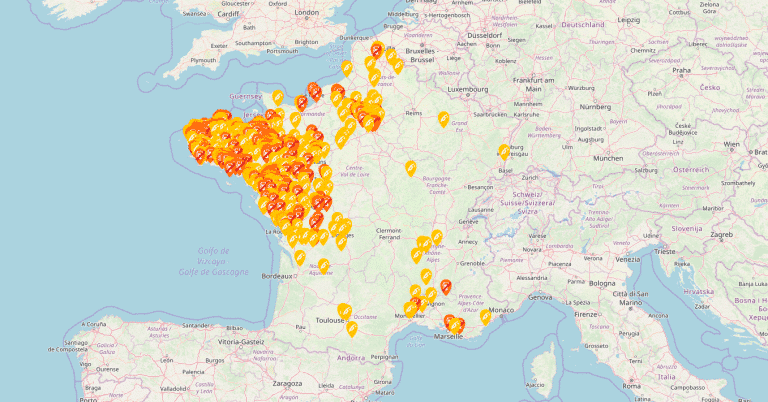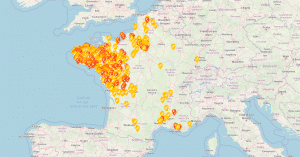 Depuis quelques jours, plusieurs dépôts pétroliers sont bloqués par des professionnels du BTP. Ils protestent contre la suppression de l'avantage fiscal du "gazole non routier", appelé GNR, qui prendra effet le 1er juillet 2020.
Ces blocages ont commencé jeudi dernier en Bretagne et dans la Sarthe principalement. Puis les raffineries de Donges et de La Rochelle se sont elles aussi ajoutées à la liste depuis ce lundi 2 décembre. À l'heure actuelle, la pénurie est déjà assez importante puisqu'environ 500 stations sont déjà en rupture de carburant.
Construction professionals were received Monday by the Minister of Economy and Finance to begin negotiations. Several proposals have been studied for many hours. But the government does not intend to reconsider its decision to phase out the tax advantage on non-road diesel.
Suite à la réponse du gouvernement, il est possible que la pénurie s'intensifie dans les jours à venir. Pour le moment, les principales zones touchées par la pénurie de carburant sont Paris, la Bretagne, la Normandie et les Pays de la Loire. Mais la pénurie se répand assez vite, dû au fait que les gens se précipitent pour remplir leur réservoir.
Here is a map that will allow you to locate the stations still in service, if you are concerned by these areas.
The yellow marks indicate service stations partially affected by the fuel shortage. While the red markers show the stations completely closed.
Voir la carte complète des stations touchées par la pénurie d'essence
Voir la carte complète des stations touchées par la pénurie d'essence
sources
Recent articles