Even if it is quite rare not to find passengers on Blablacar, it is important to know how to optimize your ad in order to create the highest traffic.
Optimization of the Blablacar profile
An optimized ad goes through an optimized profile. That is to say a profile which inspires confidence and which shows a good image of the driver. Of course, this is not about making a fake profile. The profile must showcase you while remaining honest.
The more complete your profile, the more potential passengers can get an idea of who you are and therefore be confident. To do this, you must complete several points in your profile:
Personal information (mini-bio) : Give a quick description of yourself. Your description should explain to the passenger why they should choose you as their driver. So you need to give details about who you are: who you are, if you are used to carpooling, what motivates you to carpool. The goal is to give visitors confidence in your ad, while remaining honest in its presentation.
Some examples of cool mini-bios: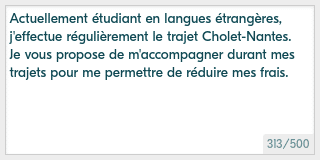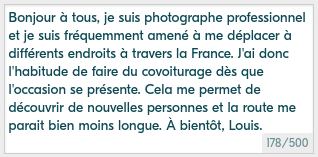 Profile picture : we should not be judging head-on, but this is what we take into account in the absence of a dialogue with the person or for lack of information about him. It is therefore important to put one. A profile that has a photo is chosen more than a profile that does not.
Preferences : Indicate if you like to chat, if the smell of cigarettes bothers you, the same for music and animals.
Checks : validate your email address, phone number and identity document. You can also connect your account Facebook and LinkedIn to increase your reputation. Finally, read and sign the charter of good conduct.
Blablacar ad optimization
To optimize an ad there are several details that you don't necessarily think about. However, these details play a considerable role for visitors. Here are the points you can improve.
Adjust departure time : your departure time must be different from that of other announcements present for the same journey. This avoids directly competing with other drivers.
Your departure time should preferably be earlier than that of others. So your ad will be displayed higher in the list of search results (because the ads are classified by default by departure time).
Add stopover cities : add the major cities as stages of your journey. Because it is always more profitable to have passengers just on a portion of the journey than not at all.
Adjust the price : set the price of your trip one euro lower than that of other similar trips. Your ad will attract more attention. Likewise, it is better to earn one euro less on a trip than nothing at all.
Give details : add a short description to your trip. You can give more details about the course of the journey. For my part, I often indicate in this description the meeting places for each stopover city.
To be reactive : stay available to quickly answer visitors' questions.
When you have made your trip, do not hesitate to leave a comment to your passenger if the trip was pleasant. If not, judge for yourself, but it is often useless to spoil your profile with a bad comment.