Même s'il est assez rare de ne pas trouver de passagers sur Blablacar, il est important de savoir comment optimiser son annonce de manière à créer la plus forte affluence.
Optimization of the Blablacar profile
Une annonce optimisée passe par un profil optimisé. C'est à dire un profil qui inspire la confiance et qui montre une bonne image du conducteur. Bien sûr, il ne s'agit pas de faire un faux profil. Il faut que le profil vous mette en valeur tout en restant honnête.
The more complete your profile, the more potential passengers can get an idea of who you are and therefore be confident. To do this, you must complete several points in your profile:
Personal information (mini-bio) : donnez une description rapide de vous. Votre description doit expliquer aux passager pourquoi il devrait vous choisir comme chauffeur. Vous devez donc donner des précisions sur votre personne : qui vous êtes, si vous avez l'habitude de faire du covoiturage, ce qui vous motive à faire du covoiturage. Le but est de mettre en confiance les visiteurs de votre annonce, tout en restant honnête dans sa présentation.
Some examples of cool mini-bios: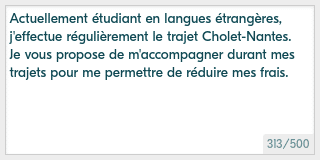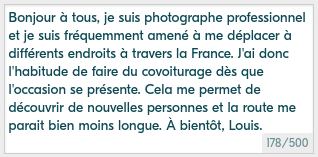 Profile picture : on ne devrait pas juger à la tête, n'empêche que c'est ce qu'on prend en compte à défaut de dialoguer avec la personne ou par manque d'information sur elle. Il est donc important d'en mettre une. Un profil qui a une photo est davantage choisi qu'un profil qui n'en a pas.
Preferences : indiquez si vous aimez discuter, si l'odeur de la cigarette vous dérange, de même pour la musique et les animaux.
Checks : faites valider votre adresse mail, numéro de téléphone et pièce d'identité. Vous pouvez aussi connecter votre compte Facebook and LinkedIn to increase your reputation. Finally, read and sign the charter of good conduct.
Optimisation de l'annonce Blablacar
To optimize an ad there are several details that you don't necessarily think about. However, these details play a considerable role for visitors. Here are the points you can improve.
Ajuster l'heure de départ : your departure time must be different from that of other announcements present for the same journey. This avoids directly competing with other drivers.
Your departure time should preferably be earlier than that of others. So your ad will be displayed higher in the list of search results (because the ads are classified by default by departure time).
Add stopover cities : ajoutez les grandes villes étapes de votre trajet. Car il est toujours plus rentable d'avoir des passagers juste sur une portion du trajet que pas du tout.
Adjust the price : fixez le prix de votre trajet un euro en dessous de celui des autres trajets similaires. Votre annonce attirera ainsi mieux l'attention. De même, il vaut mieux gagner un euro de moins sur un trajet que rien du tout.
Give details : ajoutez une petite description à votre trajet. Vous pouvez donner plus de détails sur le déroulement du trajet. Pour ma part, j'indique souvent dans cette description les lieux de RDV pour chaque ville étape.
To be reactive : stay available to quickly answer visitors' questions.
Lorsque vous avez effectué votre trajet, n'hésitez pas à laisser un commentaire à votre passager si le trajet a été agréable. Dans le cas contraire, jugez par vous même, mais il est souvent inutile de pourrir son profil avec un mauvais commentaire.