L'objectif d'Étika est simple : modifier l'ADN du système économique actuel pour le rendre plus étique, plus responsable, plus écologique, plus social. etika vous propose de créer le plus grand fonds d'investissement citoyen, pour cela il faut 500 000 soutiens minimum. Aucun appel aux dons. Faites péter le compteur 😉
We live in un monde régi par l'argent. Il est donc difficile de se faire une place, de se faire entendre ou de changer le système sans posséder d'appui financier conséquent. En résumé, la logique clé de la réussite dans ce système est la suivante : plus tu as d'argent plus tu peux investir, plus tu investis plus tu gagnes de l'argent et plus tu peux influencer les choses à grande échelle.
Les choix de société, les produits, les offres, leur qualité, tout cela est directement influencé par l'argent. Difficile donc de notre petite position de make things happen.
Quelques start-up tendent à faire évoluer la société en proposant des produits et des services plus respectueux de l'environnement, plus respectueux du porte-monnaie, plus respectueux des employés et plus respectueux des entreprises concurrentes. Malgré cela, il est difficile de dislodge the multinationals that crush small businesses en imposant leurs produits à moindre coût en proposant des produits cancérigènes, de mauvaise qualité, ou destructeur pour l'environnement, et en ne respectant pas les conditions de travail ou en sous payant la main d'oeuvre.
C'est là qu'intervient Étika.
C'est quoi Étika ? Quels sont les enjeux ?
etika is a platform that aims to bring the people together and ultimately become a huge citizen investment fund.
The Etika project is carried by a handful of anonymous citizens. We do not represent any company, foundation, or political party. We are a think tank that dreams of another world, a better world. A more breathable, cleaner, more ethical, more humanized, more supportive world.

https://consommateurengage.fr/index.php/faq/
Étika sera l'occasion pour les citoyens de choisir la société de demain.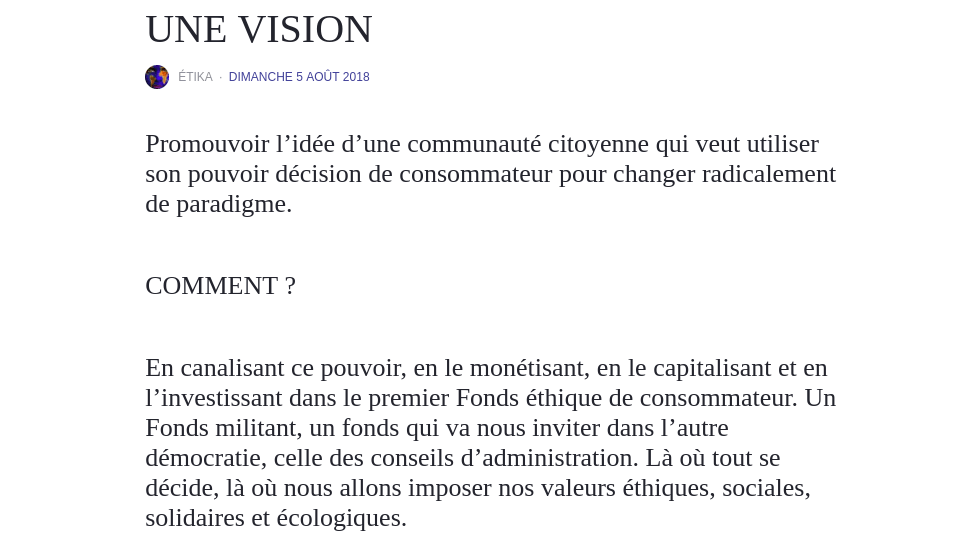 Etika, how does it work?
Le principe est simple. Nous partons de zéro nous n'avons rien, mais ne vous inquiétez pas tout est prévu 😉
Step 1 & #8211; Gather the citizens
Cette étape est la plus importante car elle est le moteur de tout ce qui s'ensuit. Le but est de faire en sorte qu'Étika devienne un pilier influent sur le marché économique. Il faut qu'Étika ait une force d'impact assez conséquente.
For this reason, the first step is already bring people together et d'obtenir le plus d'inscriptions (de soutiens) possibles sur le site. Il est donc important de partager et d'expliquer ce projet dans votre entourage.
When the number of participants is large enough, an engaged consumer association will be created.
Étape 2 – Obtenir des fonds d'investissement
Lorsque que le nombre de participants est assez grand, le but est de lancer des appels d'offres pour collecter des capitaux de démarrage où l'on met à contribution les grandes entreprises. Elles seront contraintes grâce à la loi de l'offre et de la demande et Étika exigera d'eux un label éthique et indépendant et de l'argent. Normalement les grandes entreprises devraient se plier, si elles veulent gagner la fidélité groupée de tous les citoyens du projet (c'est pour cela que le nombre de participants est important). Ensuite, Étika se chargera de mettre à disposition de tous les citoyens inscrits des services pour lesquels Étika aura obtenu des partenariats.
Ainsi, plus il y aura de soutiens pour le projet Étika, plus la force d'impact sera grande auprès des grands groupes, plus les offres de partenariat seront importantes, plus la collecte de fonds sera importante. The funds raised will be the property of the citizens committed participants in this project / association.
We propose to launch tenders for a first group of large specific companies such as banks, insurance companies, mutual insurance companies, payment cards, telecom operators, internet operators, search engines ... we will negotiate our group loyalty against an independent label and against cash. We will select our official partners among the highest bidders. The more we are, the more our citizen auctions will reach new heights. A sensible way to unlock take-off funding at the first Ethics Fund for Consumers. This dedicated ethical fund will be 100 % citizen property

https://consommateurengage.fr/index.php/2019/03/16/debrancher-lindustrie-financiere/
Step 3 & #8211; Invest
Le but de cette dernière étape est d'invest in a parallel economy (banks, insurance companies, mutual insurance companies, payment cards, telephone / internet operators, search engines) more ethical, more ecological, more social, où les intermédiaires inutiles seront supprimés. Une partie des bénéfices des produits et services "vendus" sera réinvestie dans les entreprises qui favorisent les circuits financiers courts. Et le reste des bénéfices sera réinjecté dans d'autres projets d'investissement que les citoyens adhérents sont libres de choisir.
The long-term project is thus take and surrender to citizens the power of decision que représente l'épargne et l'investissement, mais qui ne sont actuellement pas dans les mains des citoyens.
Summary of the three main steps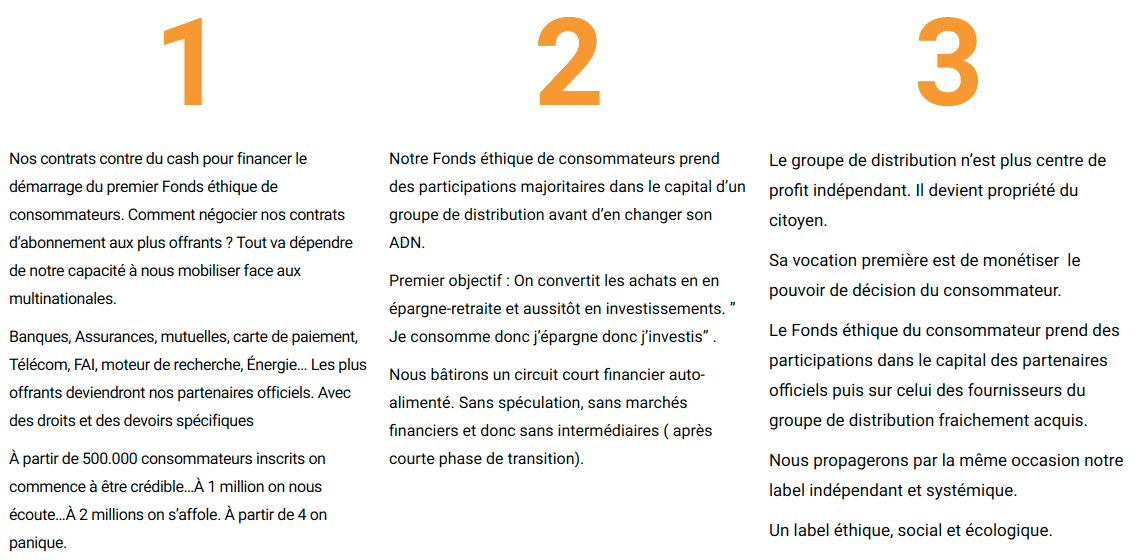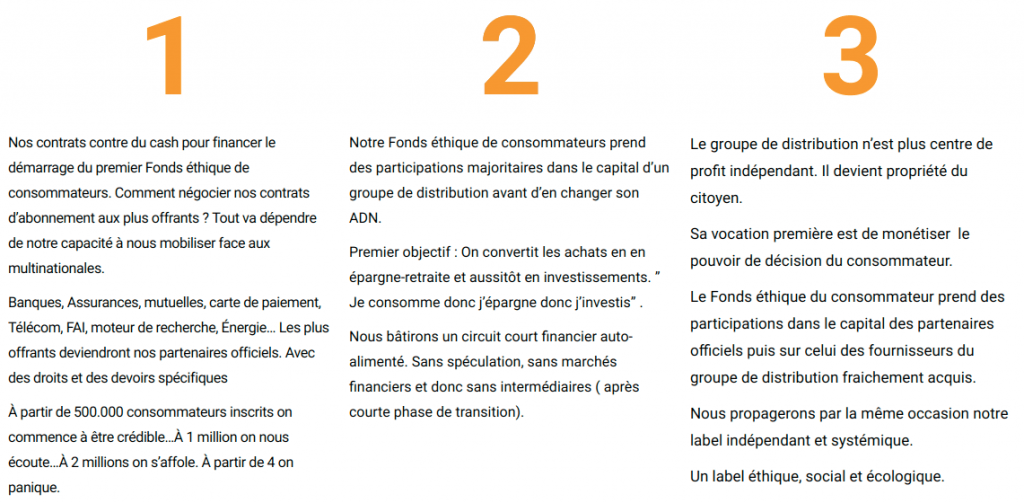 How to help Étika get started?
Étika ne fait pas d'appel aux dons. Ce n'est pas le but de ce projet. Pour que ce projet fonctionne, it is necessary en premier lieu non pas de l'argent mais a massive gathering of citizens.
La première des choses à faire est donc d'aller sur le site d'Étika et de s'inscrire : page d'inscription au projet (entièrement gratuit, à aucun moment de l'argent sera demandé)
To help Etika you must also have a good communication. Sharing by social networks and by word of mouth are great assets, simple but functional.
Conclusion
From my point of view, this project can be a solution to many societal and environmental problems. If the project is still a little vague on the concrete actions that will be carried out, Etika remains nevertheless a very audacious and feasible project.
Cependant ce n'est pas encore gagné. Je suis la page Facebook et le site d'Étika depuis quelques mois et je constate que le nombre d'inscrits peine à augmenter. Les gens ne semblent pas préoccupés par les problèmes de société, ou peut-être n'ont-ils pas le temps de s'y intéresser.
L'action est pourtant simple et rapide, il suffit de s'inscrire sur le site et de sensibiliser son entourage. Aucun don ne sera demandé. Bonne réflexion à tous 😉
Read also : Ecosia clothing: a gift for nature