Etika's objective is simple: to modify the DNA of the current economic system to make it more ethical, more responsible, more ecological, more social. etika proposes to you to create the largest citizen investment fund, for this you need at least 500,000 supports. No appeal for donations. Blow up the meter 😉
We live in a world ruled by money. It is therefore difficult to find a place, to be heard or to change the system without having substantial financial support. In summary, the key logic for success in this system is: the more money you have the more you can invest, the more you invest the more money you make and the more you can influence things on a large scale.
The choices of society, the products, the offers, their quality, all of this is directly influenced by money. So difficult from our small position of make things happen.
Some start-ups tend to change society by offering products and services that are more respectful of the environment, more respectful of the wallet, more respectful of employees and more respectful of competing companies. Despite this, it is difficult to dislodge the multinationals that crush small businesses by imposing their products at a lower cost by offering carcinogenic, poor quality or environmentally destructive products, and by not respecting working conditions or by underpaying labor.
This is where Étika comes in.
What is Etika? What are the issues ?
etika is a platform that aims to bring the people together and ultimately become a huge citizen investment fund.
The Etika project is carried by a handful of anonymous citizens. We do not represent any company, foundation, or political party. We are a think tank that dreams of another world, a better world. A more breathable, cleaner, more ethical, more humanized, more supportive world.

https://consommateurengage.fr/index.php/faq/
Étika will be an opportunity for citizens to choose the society of tomorrow.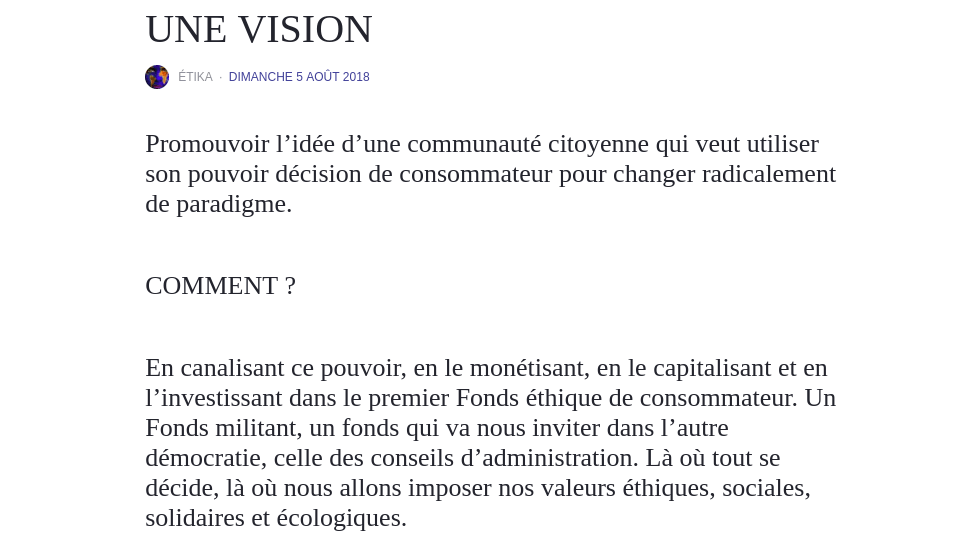 Etika, how does it work?
The principle is simple. We are starting from scratch we have nothing, but don't worry everything is planned 😉
Step 1 & #8211; Gather the citizens
This step is the most important because it is the driving force behind everything that follows. The aim is to ensure that Etika becomes an influential pillar in the economic market. Etika must have a fairly substantial impact force.
For this reason, the first step is already bring people together and get as many registrations (support) as possible on the site. It is therefore important to share and explain this project to those around you.
When the number of participants is large enough, an engaged consumer association will be created.
Step 2 - Obtain investment funds
When the number of participants is large enough, the goal is to launch calls for tenders to raise start-up capital where large companies are involved. They will be constrained by the law of supply and demand and Etika will demand from them an ethical and independent label and money. Normally large companies would have to comply, if they want to gain the collective loyalty of all the citizens of the project (this is why the number of participants is important). Then, Étika will take care of providing all registered citizens with services for which Étika has obtained partnerships.
Thus, the more support there will be for the Etika project, the greater the impact will be with large groups, the more partnership offers will be important, the more fundraising will be important. The funds raised will be the property of the citizens committed participants in this project / association.
We propose to launch tenders for a first group of large specific companies such as banks, insurance companies, mutual insurance companies, payment cards, telecom operators, internet operators, search engines ... we will negotiate our group loyalty against an independent label and against cash. We will select our official partners among the highest bidders. The more we are, the more our citizen auctions will reach new heights. A sensible way to unlock take-off funding at the first Ethics Fund for Consumers. This dedicated ethical fund will be 100 % citizen property

https://consommateurengage.fr/index.php/2019/03/16/debrancher-lindustrie-financiere/
Step 3 & #8211; Invest
The purpose of this last step is toinvest in a parallel economy (banks, insurance companies, mutual insurance companies, payment cards, telephone / internet operators, search engines) more ethical, more ecological, more social, where unnecessary intermediaries will be removed. Part of the profits from products and services "sold" will be reinvested in companies that promote short financial circuits. And the rest of the profits will be reinjected into other investment projects that member citizens are free to choose.
The long-term project is thus take and surrender to citizens the power of decision savings and investment, but which are currently not in the hands of citizens.
Summary of the three main steps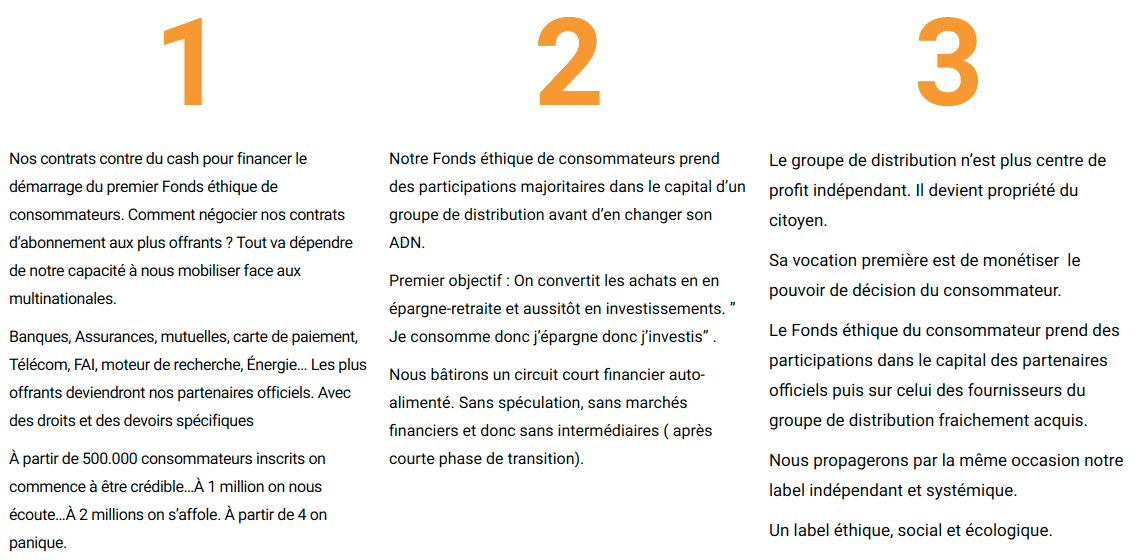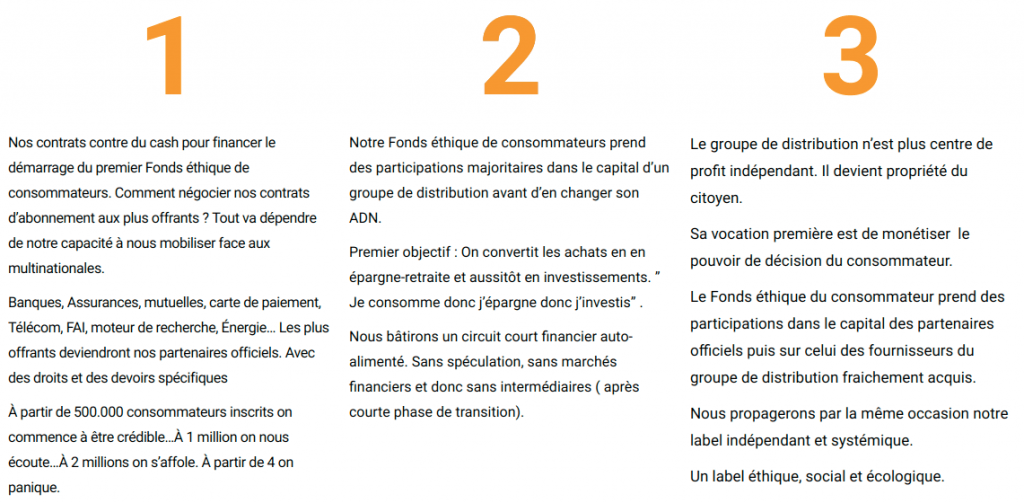 How to help Étika get started?
Étika does not call for donations. This is not the goal of this project. For this project to work, it is necessary in the first place not money but a massive gathering of citizens.
The first thing to do is to go to the Etika site and register: project registration page (completely free, at no time will money be requested)
To help Etika you must also have a good communication. Sharing by social networks and by word of mouth are great assets, simple but functional.
Conclusion
From my point of view, this project can be a solution to many societal and environmental problems. If the project is still a little vague on the concrete actions that will be carried out, Etika remains nevertheless a very audacious and feasible project.
However, it is not yet won. I have been following Etika's Facebook page and site for a few months and I see that the number of subscribers is struggling to increase. People don't seem to care about social issues, or maybe they don't have the time to take an interest in them.
The action is however simple and fast, it is enough to register on the site and to sensitize its entourage. No donation will be requested. Good thinking everyone 😉
Read also : Ecosia clothing: a gift for nature