Here is a list of essential WordPress plugins that will allow you to add useful features to the launch of your future blog.
The WordPress plugins presented below are a set of essential extensions to install to make your blog more practical and functional. The purpose of these extensions is to optimize the performance of your site, to secure it, to add functionality and to facilitate its use. Once these extensions are installed, you can focus more on creating content than optimizing your site.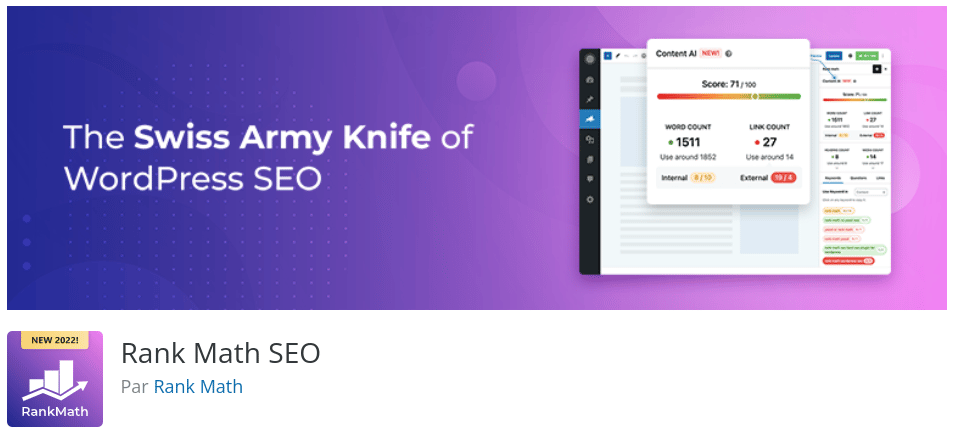 Active installations: 1 million +
Rank Math SEO is the best plugin to optimize your SEO. It is the equivalent of the famous Yoast SEO but in a completely free version. Here are these features:
Simple and guided plugin configuration
Ability to optimize your article for an unlimited number of keywords, unlike most other plugins
Advice is given to you to optimize each of your articles: number of words, title length, missing "alt" tag, etc.
Metadata configuration
Support for Rich Snippets to define content type: article, product, recipe, event, video, local business listing
Automatic search engine alert when you post or edit content
Redirect manager with automatic detection of deleted pages
Generating the XML file
404 error handler to locate pages that return a 404 error and redirect them
Support and optimization of AMP pages
WooCommerce support and optimization
It is essential that you have a plugin to optimize your SEO. This will help you to respect the SEO standards in force so as not to be penalized in your SEO.
For a few months Rank Math has been offering a premium version that adds features, in addition to all those already present in the free version.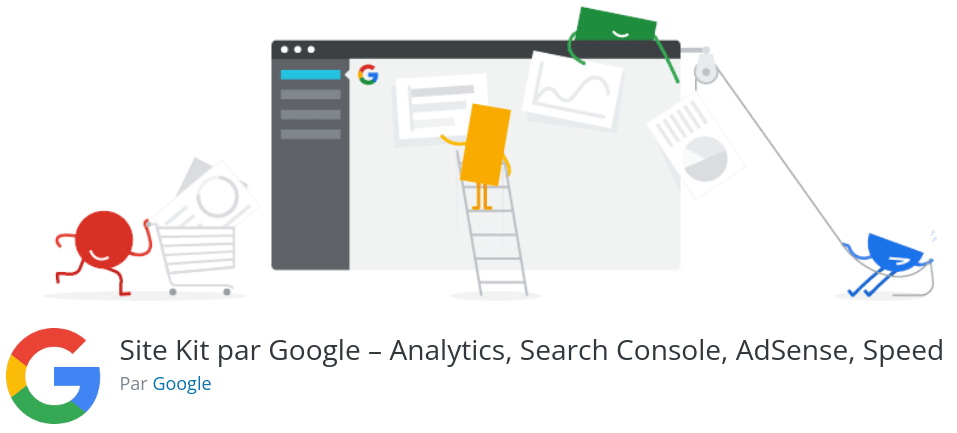 Active installations: 2 million +
Site Kit is an extension developed by Google which aims to simplify the connection of your blog to Google's analysis tools. This also makes it possible to summarize the information from these different services within the same interface in the administrator area of your site.
This extension facilitates the connection to the following Google tools:
Search Console: analyze your presence on the Google search engine: positioning, number of indexed pages, number of clicks to your site from Google, indexing errors, etc.
Analytics: analyze the behavior of Internet users on your site: number of page views, duration of sessions, origin of Internet users, type of device used, etc.
AdSense: have the details of your Google Ads sponsored campaigns.
PageSpeed Insights: have an analysis of the technical performance of your site.
Tag Manager: Manage code snippets (tags) connected to your site.
Optimize: test variations of the same page to find out which version performs best.
Site Kit and related Google tools are completely free.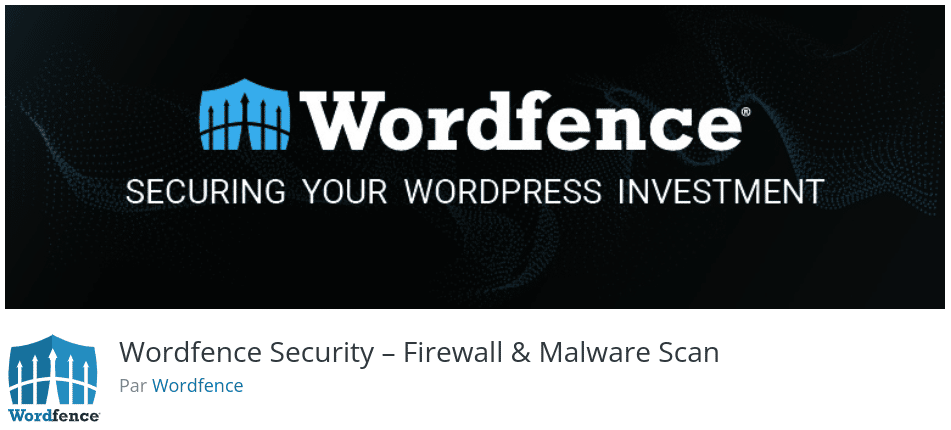 Active installations: 4 million +
Wordfence Security is an antivirus that allows you to add layers of security to your WordPress installation. This very complete plugin offers the following features:
Firewall: identifies and blocks malicious traffic in real time
Scanner: check if files, themes and extensions are not infected with malware, check the integrity of WordPress system files
Secure the login page: added the double authentication (2FA), adding a Captcha to the login form, prevents users from choosing too simple a password
This plugin offers a free version which is perfectly functional and several paid versions which allow you to add other features, starting at 95 euros per year.
WP Rocket : reduce loading time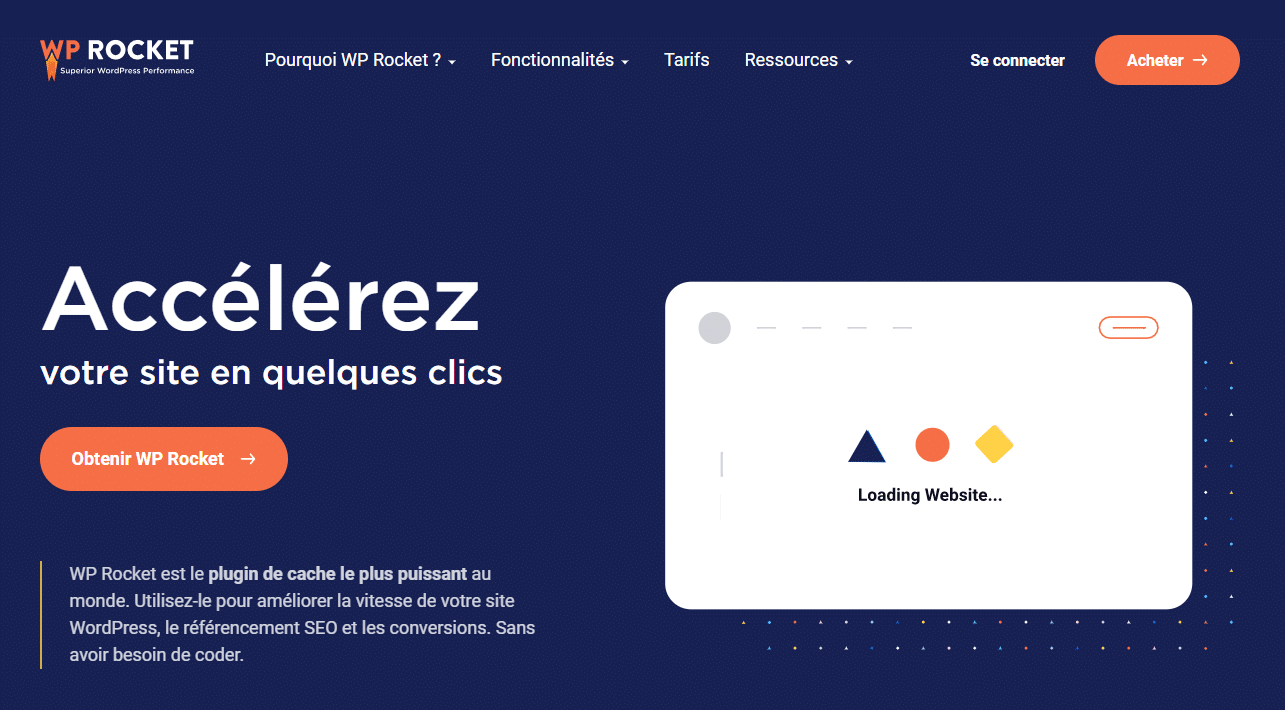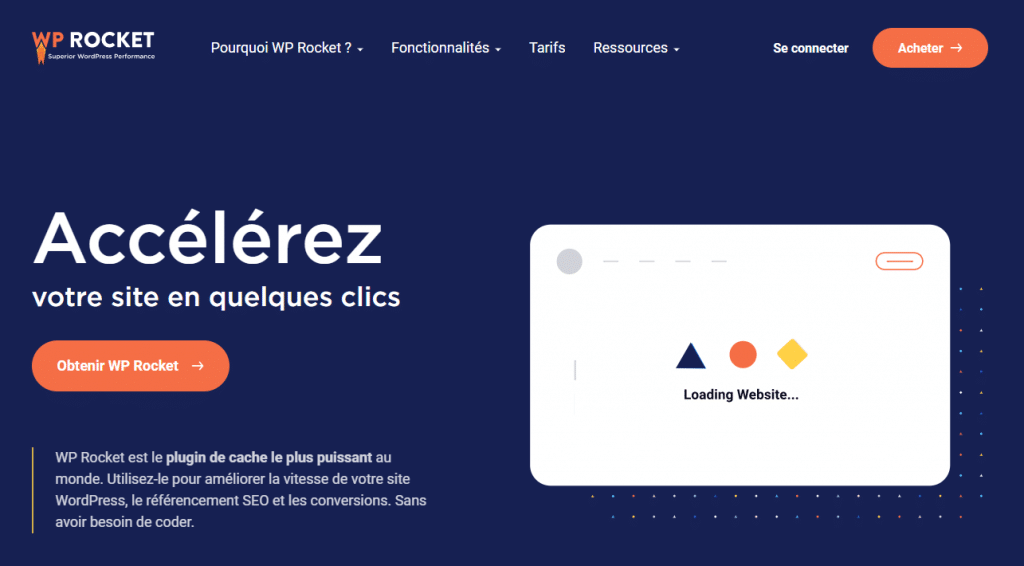 Active installations: 2 million +
WP Rocket is one of the best WordPress plugins to speed up the loading of your site. The configuration is simple and complete at the same time. Here's what it does:
Caching pages on your site to decrease loading time
Preloading the cache
Compression / Minification of static files: this reduces the weight of HTML, CSS and Javascipt files
Lazy Load: only the images visible on the screen will be loaded, the others will be loaded in a second step as the user scrolls the page
Clean and optimize the database
WP Rocket does not offer a free version. Its price is 45 euros for one year. It is a profitable investment given what this plugin offers.
If you do not want to spend money in such a plugin, you can turn to W3 Total Cache. It is an equivalent plugin and completely free. The configuration is however much more complex.
Imagify : reduce the weight of the images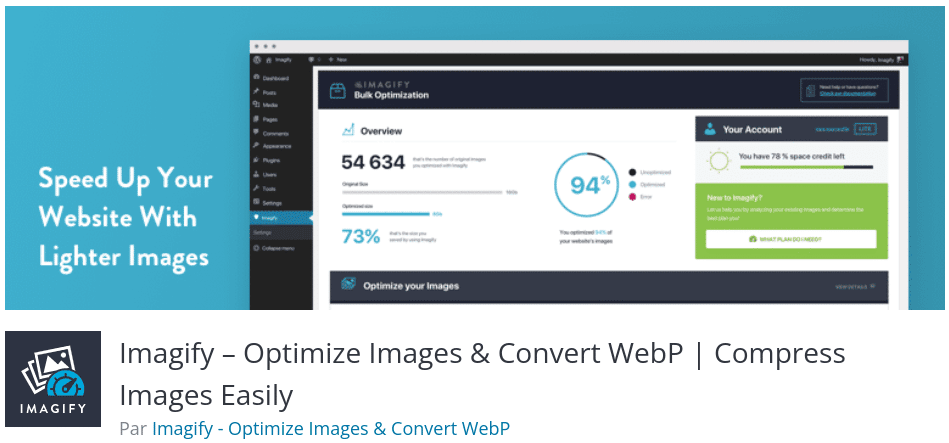 Active installations: 700 000 +
Always in order to optimize the loading of pages, the plugin Imagify can significantly reduce the size of your images and allows you to convert them to WebP format. Here is what this plugin offers:
Reduce image size to 90 % by compression.
Display images in WebP format. This format is even lighter. It reduces the size by approximately 39 %, compared to JPEG, PNG or GIF formats.
All original images are kept on your server. This allows you to restore an image if you are not satisfied with the final quality.
Auto-optimize: Automatically optimize images when added to your library
Mass Optimization: Optimizes as many images as you want at a time
Dashboard: allows you to have a preview of the images optimized or not and allows to see how much size you have saved in total
Imagify offers a free version that optimizes 20MB of images per month, or about 200 images. Only images under 2MB can be optimized in the free version. The premium version is accessible from 4.50 euros per month for 500 MB, or 9.50 euros per month to have no limit. More info on prices.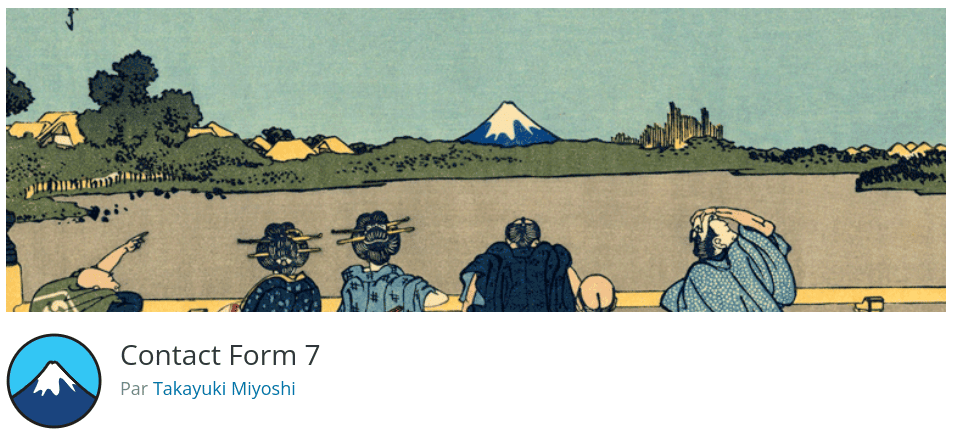 Active installations: 5 million +
By default WordPress does not offer a contact form. It is therefore necessary to install a plugin to add one. I recommend the free Contact Form 7 plugin which is very reliable and which is used by more than 5 million blogs. Other paid WordPress plugins can also be installed, such as WPForms or Ninja Forms. Here is what Contact Form 7 offers:
Create contact forms with the possibility of inserting the following fields: text, email, URL, telephone number, number, date, drop-down menu, check boxes, radio buttons, file
Customize the different messages of the form. For example : Your message has been sent, This field is required, etc…
Ability to create as many forms as you want, then integrate them anywhere with a code to insert.
By default, Contact Form does not track users, does not save users' personal data in the database and does not use cookies.
Possibility to activate reCaptcha and Askimet (this will activate the sending of personal data)
To complete your installation, you can install the Flamingo plugin which allows you to save messages in the database. So all messages sent through the contact form are classified and viewable from your WordPress dashboard.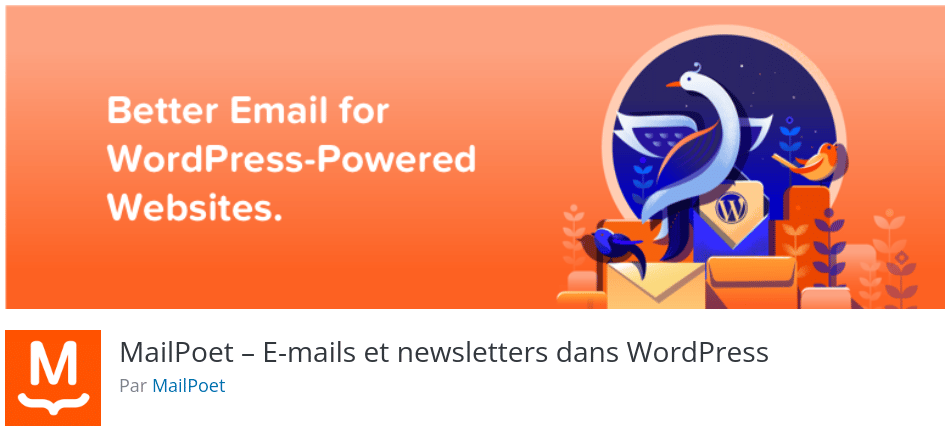 Active installations: 600 000 +
MailPoet 3 is a popular plugin that lets you add a newsletter system to your WordPress site. Here are its advantages:
Automatic sending of a welcome email to new subscribers
Automatic sending of a notification email when you publish content
Ability to create as many mailing lists as you want
Many free email themes available
Creation and modification of email content by simple drag and drop
WooCommerce compatible
MailPoet is available in free version up to 1000 subscribers. More information on prices.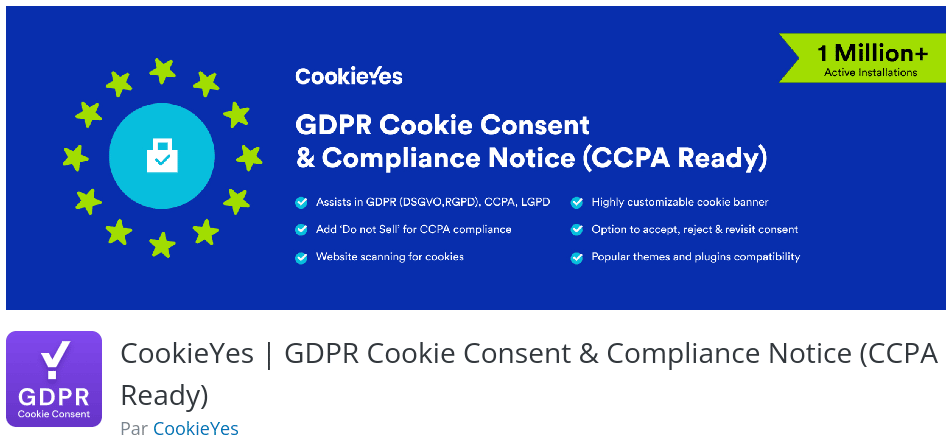 Active installations: 1 million +
The General Data Protection Regulation (GDPR) or General Data Protection Regulation (GDPR) is a European law entered into force in May 2018. This text aims to strengthen the protection of the personal data of individuals within the European Union by imposing strict rules. European websites must in particular obtain an explicit agreement to use certain types of cookies, keep a register of the data processed, or even allow the consultation, rectification or deletion of the data.
In order to comply with this law, it is necessary to add a form which asks visitors for their authorization to use cookies. I advise you to use the GDPR Cookie Consent plugin from WebToffee.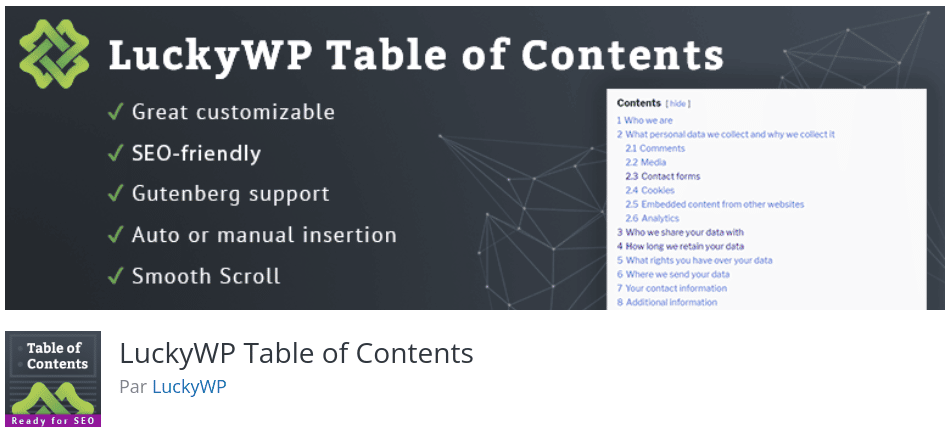 Active installations: 100 000 +
LuckyWP Table of Contents is a useful extension for adding a summary or a table of contents. This will give your readers an organized overview of the content of your articles. It is a complete and very easy-to-use extension that automatically generates a summary from the titles and sub-titles of your articles. With LuckyWP Table of Contents you can:
Automatically add a summary on all the articles or choose those of your choice
Choose the location of your summary for each of your articles
Choose to display a button to roll up / unroll the summary
Choose which level of titles to display for each of your articles: h1, h2, h3, h4, h5, h6
Choose the numbering: Without numbering, Decimal numbers or Roman numerals
Change colors and font size
This extension is completely free and is optimized for SEO.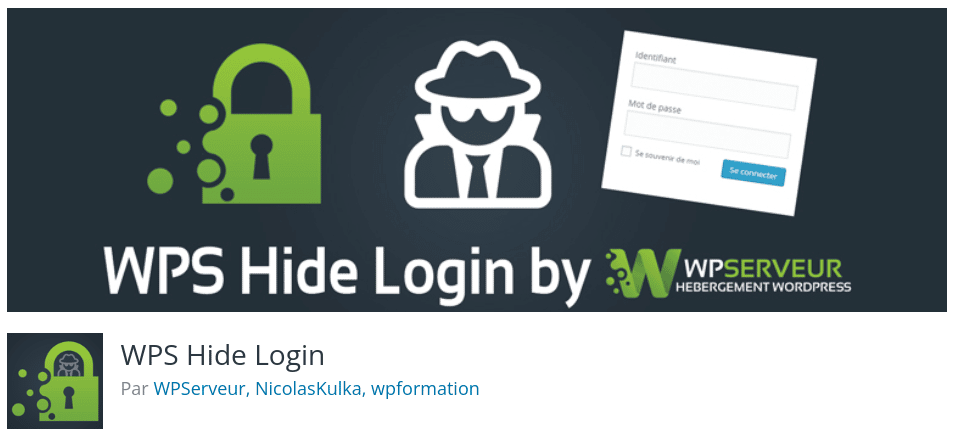 Active installations: 1 million +
To strengthen the security of your site, in addition to using the previous extension, I advise you to install WPS Hide Login which allows you to modify the URL of the login page.
This extension is perfectly useful if there are only administrators who need to connect to your site. However, it loses its usefulness if you need to allow access to other types of accounts, such as customers or moderators, for example.
AMP for WP : add a light version for mobile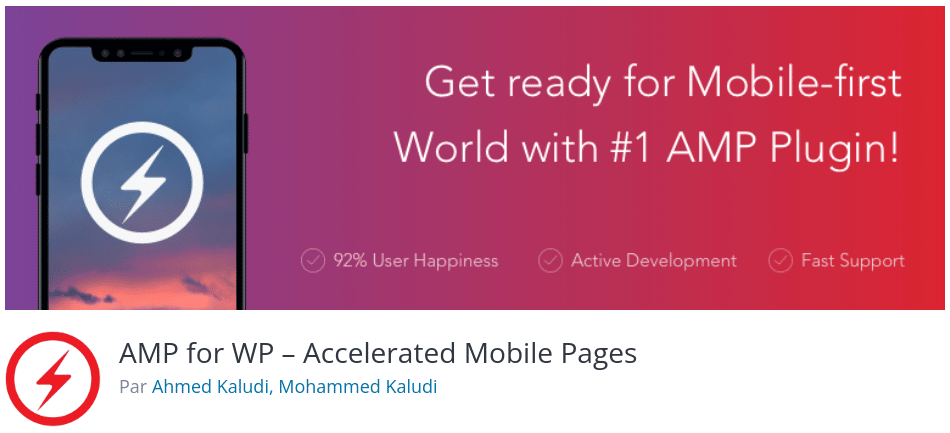 Active installations: 100 000 +
The AMP version of a web page is a simplified version which aims to load quickly on mobile. The loading speed being directly taken into account in the ranking of sites, the AMP version therefore improves your SEO. It is therefore useful to take this parameter into account to stay well positioned on Google.
AMP for WP is the most complete and functional solution available today. This plugin offers:
Simplified and guided configuration
Automatically generate an AMP version
You can choose on what type of page there should be an AMP version: Articles, Pages, Home, Archives
Compatible with comments display
WooCommerce compatible
GDPR compatible
Compatible with multilingual sites
Compatible with structured data
This plugin is free and offers free or paid extensions to improve the compatibility of AMP pages with certain WordPress plugins. For example, there is a compatibility module to add / edit comments directly from the AMP version, to improve the display of tables, to add pop-ups, support Contact Form 7, and many other things too.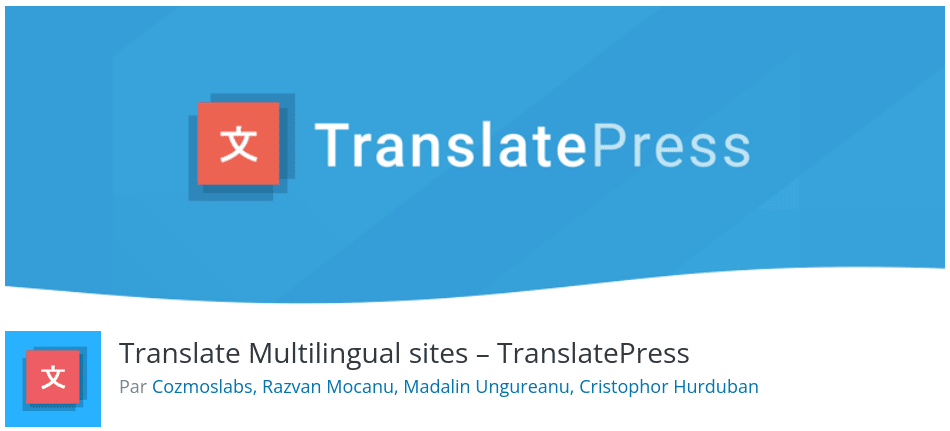 Active installations: 200 000 +
TranslatePress is a translation plugin available in a free version and a premium version. In terms of translation on WordPress, if you want a quality plugin you will have to pay no matter what. TranslatePress is in my opinion the best value for money. If you still want to turn to a completely free extension, but less practical to use, I advise you My WP Translate.
Here are the functions offered by the free version and the Premium versions of TranslatePress:
The free version offers the following functions:
Translation of your site into one language
The translation is done directly from the visitor interface (frontend), this allows to have a live rendering
Translation of any part of your site
Translation of images
Automatic translation with Google Translate
Compatible with WooCommerce
Button to change the language to integrate where you want
The Personal version at 85 euros adds:
Translation of your site in as many languages as you wish
Translation of metadata: Title, Description and URL of the page (Slug)
The Business versions at 155 euros and Developer at 240 euros add:
Adding a new WordPress account type account: the Translator account (this type of account can be created for free with the User Role Editor by Members extension)
See the site as Administrator, Publisher, Author, Contributor or Subscriber
Display different menus depending on the language
Automatic translation with DeepL
Automatically detect user language
The free version is good for beginners at first, but it will quickly be blocking since it only allows you to add one language and it does not allow you to translate metadata. The Personal version is a good one included. More information on prices.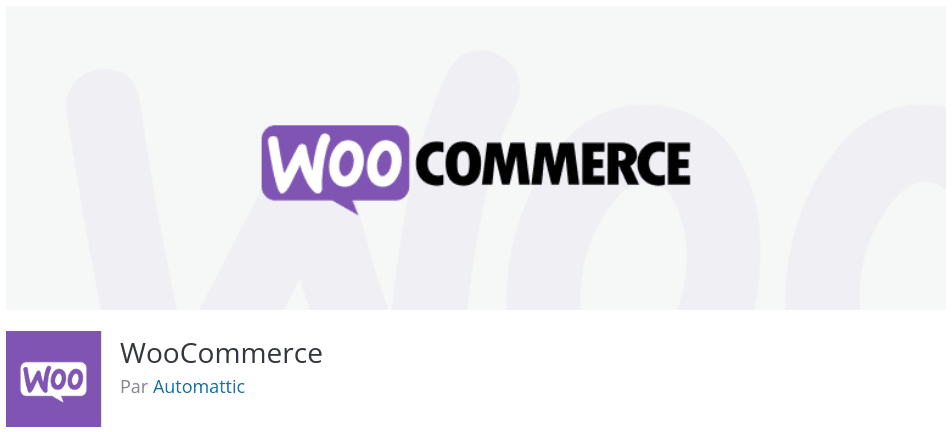 Active installations: 5 million +
WooCommerce is unquestionably the best plugin to add a store to your site. Here's what it does:
Add product pages, shopping cart and customer area
Offer different means of secure payment
Configure different delivery methods
Configure different taxes based on customer location
Add promotional codes
Send customers automatic email notifications on the progress of their order
Allow customers to leave product reviews
Get an overview of your business with the dashboard
WooCommerce complies with GDPR requirements
Add a multitude of other functions with free or paid WooCommerce extensions
The WooCommerce plugin is free, but some useful WooCommerce extensions may require payment.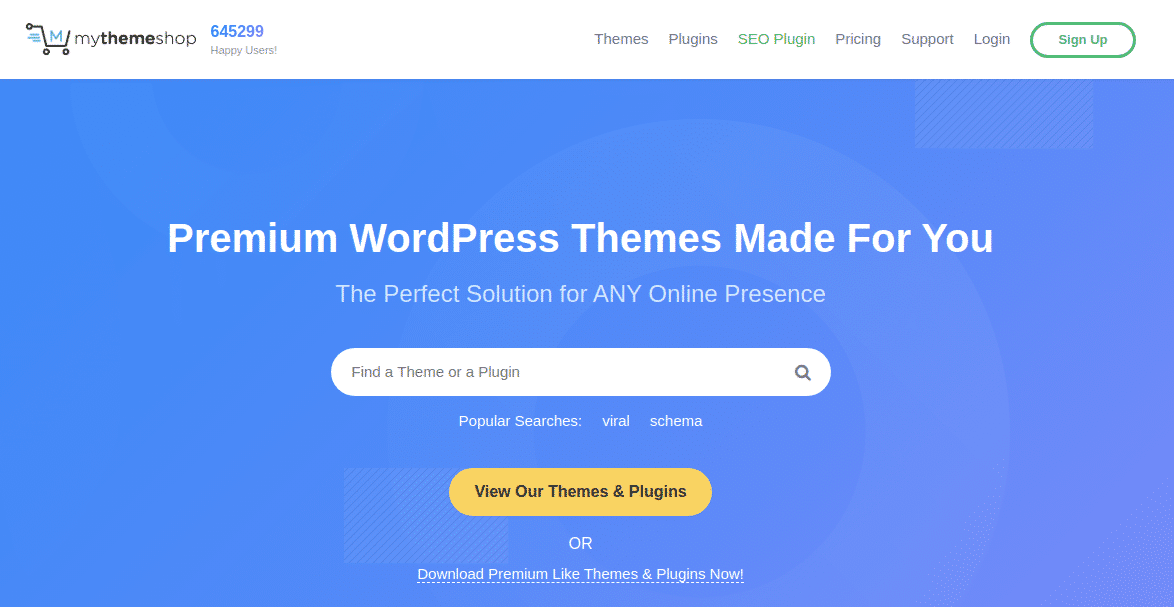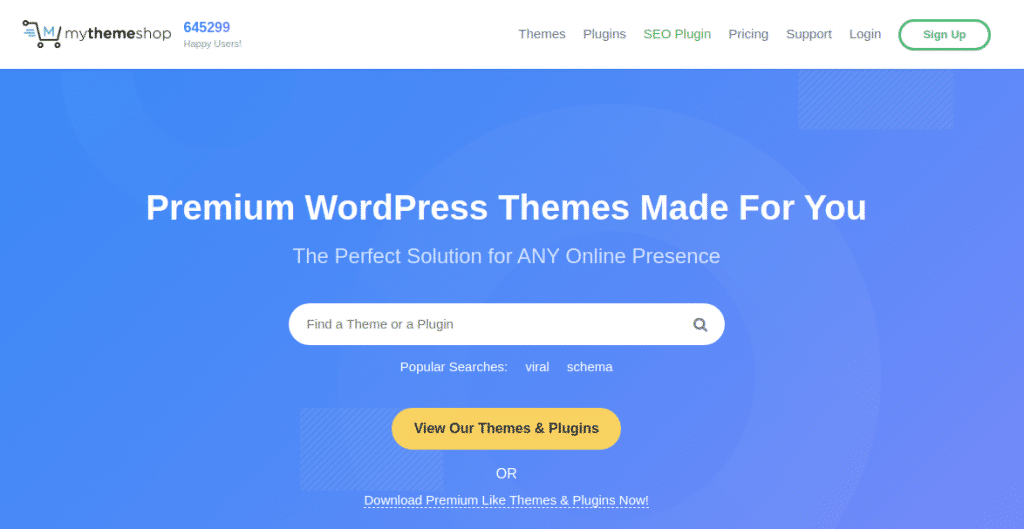 MyThemeShop is a platform of high quality WordPress themes and plugins that are optimized for SEO. The advantage of these themes and plugins is that they are all compatible with each other and that they complement each other.
MyThemeShop offers themes for any type of site. In total there are around 80 different themes that are updated regularly. The theme catalog covers so many types of sites that it is almost certain that you will find a theme adapted to your needs.
MyThemeShop plugins are also very interesting, as they add many essential functions to WordPress. Most MyThemeShop plugins are sufficient on their own to have an enriched and productive WordPress site.
You can have access to all of these themes and plugins for only 17 euros per month.