Thomas La Masse est un site de pronostics de football et hippique. Si l'abonnement aux services est relativement simple et rapide, le désabonnement est au contraire bien plus compliqué et long. Voici deux méthodes pour forcer le désabonnement…
A scam signed Thomas La Masse
As explained in my previous article on the scam Thomas La Masse, l'abonnement chez Thomas La Masse est en fait un indefinite subscription.
Vous ne le voyez pas clairement quand vous vous abonnez car vous n'avez peut être pas lu (vous non plus :p) les General conditions of sale du site. C'est pourtant une erreur car elles indiquent clairement l'arnaque : l'abonnement est renouvelé automatiquement chaque mois pour une durée indéterminée.
Après avoir consulté quelques avis, il n'existe principalement que deux solutions pour vous désabonner. La première est parfaitement en accord avec les CGV de Thomas La Masse et longue. Tandis que la seconde est quasi immédiate.
The official method
Referring to General Sales Conditions on apprend que pour se désabonner du site Thomas La Masse il faut écrire au siège de l'entreprise. Ce que m'a confirmé Thomas lorsque j'ai (enfin) réussi à le contacter sur WhatsApp. Le problème est qu'il faut attendre le 31 mai prochain (date anniversaire de la société) pour être désabonné. Ce qui veut dire qu'il faut payer chaque mois restant avant la (soi-disant) date anniversaire de la société.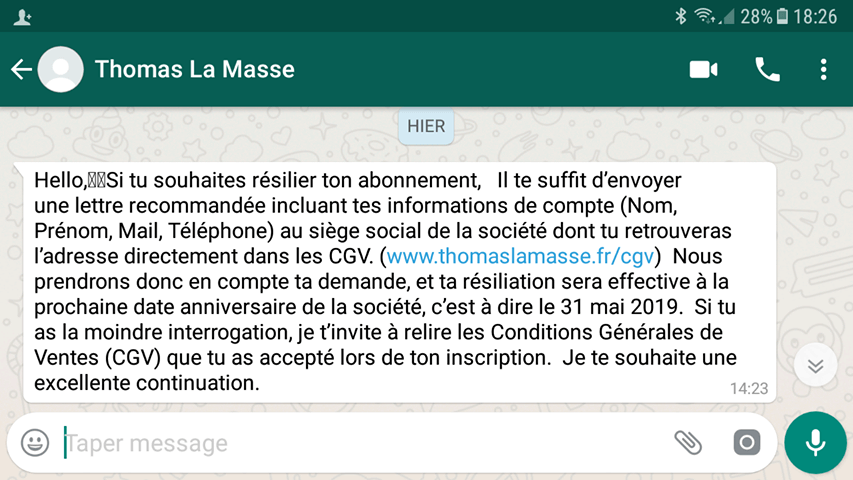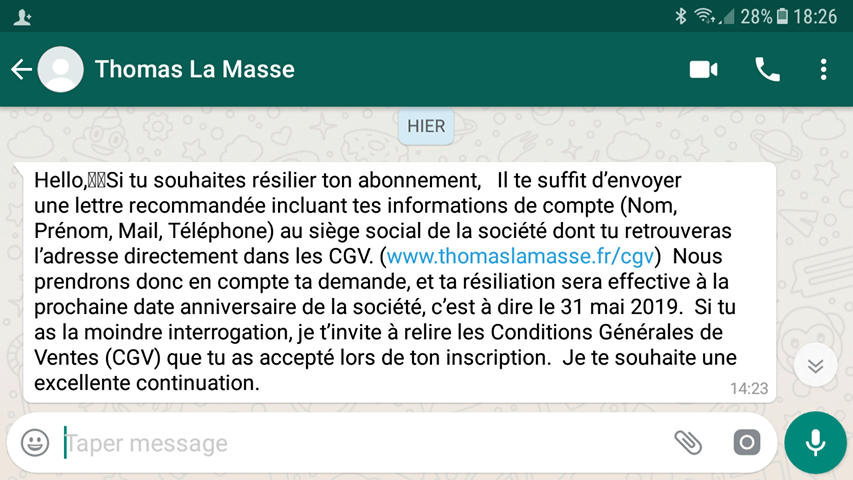 The radical method
Une méthode plus radicale existe pour en finir définitivement avec l'abonnement. Il suffit d'empêcher le prélèvement auprès de votre banque. Mais cela est plus fastidieux à bloquer qu'un prélèvement habituel.
En effet c'est votre carte bancaire qui est enregistrée sur le site de Thomas La Masse. Ce n'est pas un prélèvement automatique par RIB comme le font de nombreuses sociétés "normales". Il est alors impossible de faire directement opposition au prélèvement de Thomas La Masse. Il faut donc carrément faire opposition à votre carte pour que le prélèvement de Thomas La Masse soit bloqué.
Soyez prudent cependant ! D'un point de vu juridique vous cassez un "contrat" qui vous engage à payer jusqu'au 31 mai prochain. Je ne suis pas spécialiste en droit, je ne pourrais donc pas vous affirmer que cette manière de procéder est légale ou non. Ni moi, ni Current Trends ne pourront être tenus responsables des conséquences de cette procédure. Renseignez juridiquement vous si vous avez des doutes.
N'hésitez pas à apporter tous renseignements qui pourrais aider à compléter cet article 😉
Note : pensez à retirer avant de faire opposition de votre carte, dans le cas contraire vous pourrez tout de même retirer auprès d'une agence de votre banque en présentant votre RIB et votre carte d'identité
Read also : Legally save music from Deezer and Spotify