Thomas La Masse is a prediction site for football and horse racing. If the subscription to the services is relatively simple and fast, the unsubscription is on the contrary much more complicated and long. Here are two methods to force unsubscription & #8230;
A scam signed Thomas La Masse
As explained in my previous article on the scam Thomas La Masse, the subscription at Thomas La Masse is actually a indefinite subscription.
You do not see it clearly when you subscribe because you may not have read (you either: p) General conditions of sale of the site. This is a mistake because they clearly indicate the scam: the subscription is automatically renewed each month for an indefinite period.
After consulting a few opinions, there are mainly two solutions to unsubscribe. The first is perfectly in agreement with the terms of Thomas La Masse and long. While the second is almost immediate.
The official method
Referring to General Sales Conditions we learn that to unsubscribe from the site Thomas La Masse write to the headquarters of the company. What Thomas confirmed to me when I (finally) managed to contact him on WhatsApp. The problem is thatyou have to wait until May 31 (anniversary date of the company) to be unsubscribed. Which means that you have to pay every month before the (so-called) anniversary date of the company.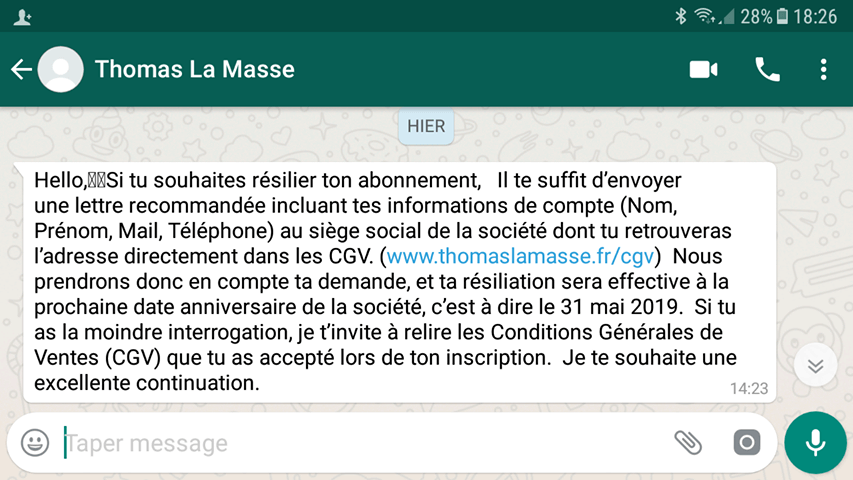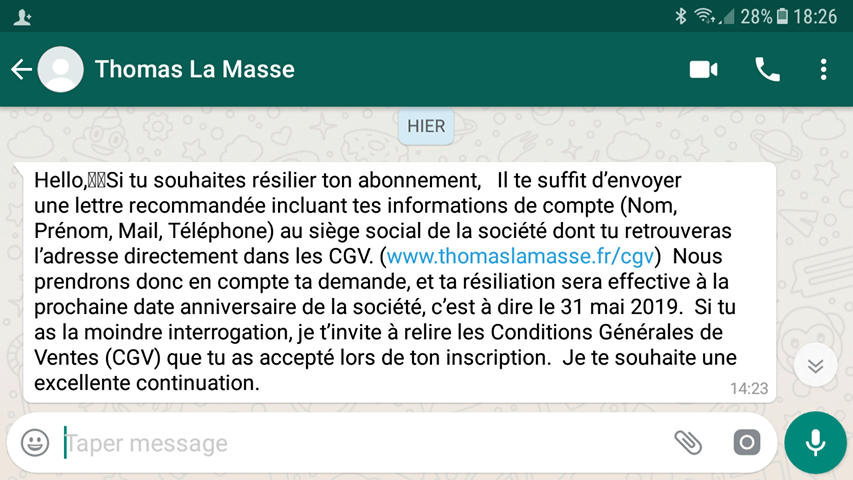 The radical method
A more radical method exists to definitively end the subscription. Just #8217; prevent the withdrawal from your bank. But this is more tedious to block than a regular levy.
Indeed it is your credit card which is registered on the site of Thomas La Masse. This is not an automatic charge by RIB as do many "normal" companies. It is then impossible to directly oppose the collection of Thomas La Masse. So you have to oppose your card outright so that the collection of Thomas La Masse is blocked.
Be careful though! From a legal point of view you break a "contract" that commits you to pay until May 31st. I am not a specialist in law, so I can not say that this way of proceeding is legal or not. Neither me nor Current Trends can be held responsible for the consequences of this procedure. Inform yourself legally if you have doubts.
Feel free to bring any information that could help complete this article 😉
Note: remember to withdraw before you oppose your card, otherwise you can still withdraw from an agency of your bank by presenting your RIB and your identity card
Read also : Legally save music from Deezer and Spotify