Hello to all the bettors who have been able to experiment or who would like to experiment the site thomaslamasse.fr. Thomas La Masse is good but & #8230; it's also a lot of (bad) surprises, it's very risky & #8230; and ultimately unprofitable & #8230;
To read : Thomas La Masse: two methods to unsubscribe
Who is he, what is he doing?
To make things simpler I will summarize the facts a little in chronological order.
Thomas La Masse from his little name Thomas Boursin (company details) is a bettor who gives prognosis for football and horse racing mainly. I started to know him and follow him towards the beginning of the year 2017. He offers free prognoses and other paying (premium version at € 29.90 for a month).
Its premium version offers more prognoses and some details regarding the choice of its prognoses. So I took an occasional one-month subscription to test his service. Until then everything was fine but it began to deteriorate little by little.
Gambling and risky information
As with any bettor, it is difficult to have a success rate of 100%. Thomas La Masse thus established a sheet of statistics summarizing his victories and defeats. Strangely, some defeats were not noted. Curious therefore & #8230; Maybe he made a mistake? This happens from time to time & #8230; But when this type of error recurs in a frequent way, one begins to think that it notes well what arranges it. If there was that it would not be too serious & #8230;
Subscription for an indefinite period
Since May 31, 2018 (if I am not mistaken), the monthly subscriptions to be renewed become monthly subscriptions for an indefinite period. Without anyone being kept informed of this change of situation. I realized when my subscription was renewed without my permission, which was not the case before. That's when I read the Terms of Sales and that I realized how big the scam was.
To summarize the General Conditions of Sale: any subscription is subscribed for an indefinite period. To terminate a subscription, you must send a registered letter to the registered office of the company and the cancellation is effective May 31 of the following year (May 31 being the anniversary date of the company). That means that until May 31 next I will be obliged to stay subscribed and pay € 29.90 / month.
Thomas La Masse is missing
I'm worried about this money going up in the air, so I decide to try to contact him.
I first sent a message using the contact form for unsubscribe requests. I got an almost immediate and automatic response telling me that he does not reply to the email and that he must be called or contacted by WhatsApp.
So I called him. But to no avail, no one answers and his voicemail is full. So I try to call him on WhatsApp but I get the same radio silence, so I leave him a written message.
After a few days I finally got an answer by WhatsApp that confirms the extent of the scam: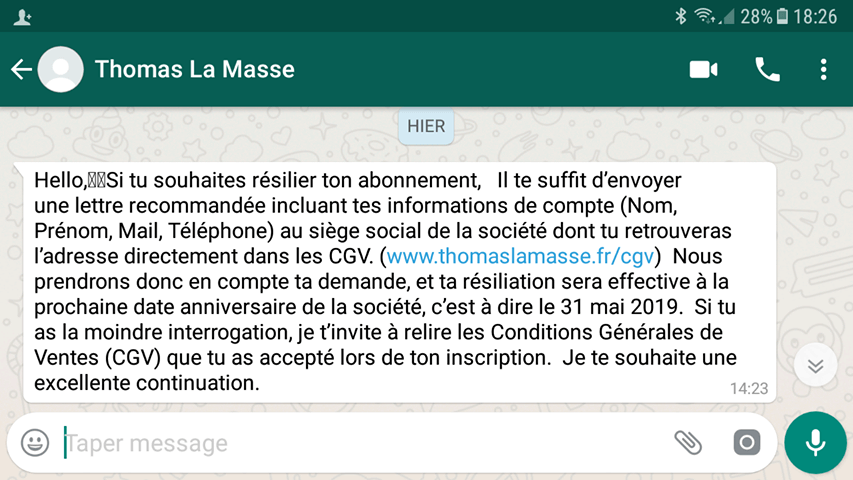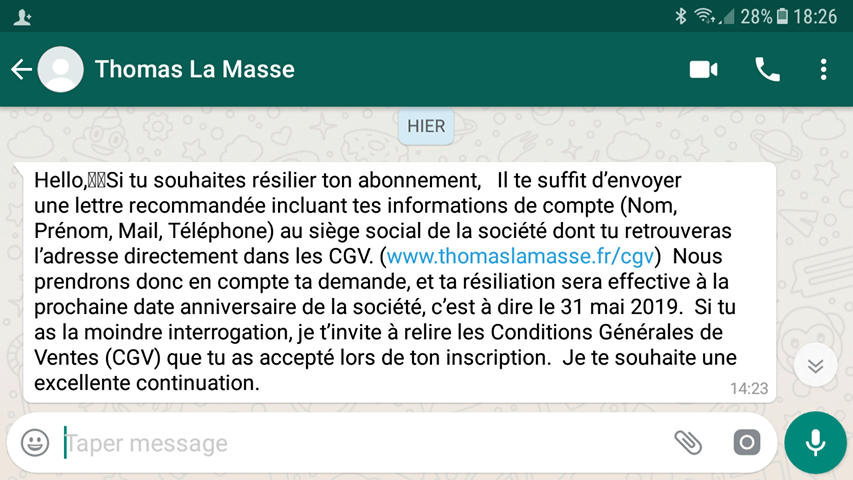 How to unsubscribe?
I explain everything in this article:
Thomas La Masse: two methods to unsubscribe
Feel free to say what you think in the comments, many people are in the same galley & #8230;
Even if it happens to put good paris, I do not think that it is a good investment!
Good afternoon to you 😉
Read also : Ecosia: the green search engine