Bonjour à tous les parieurs qui ont pu expérimenter ou qui voudrait expérimenter le site thomaslamasse.fr. Thomas La Masse c'est bien mais… c'est aussi beaucoup de (mauvaises) surprises, c'est très hasardeux… et au final peu rentable…
To read : Thomas La Masse: two methods to unsubscribe
Who is he, what is he doing?
To make things simpler I will summarize the facts a little in chronological order.
Thomas La Masse from his little name Thomas Boursin (company details) est un parieur qui donne des pronostiques pour le foot et les courses hippiques principalement. J'ai commencé à le connaître et le suivre vers le début de l'année 2017. Il propose des pronostiques gratuites et d'autres payantes (version premium à 29,90€ pour un mois).
Sa version premium offre plus de pronostiques et quelques détails par rapport aux choix de ses pronostiques. J'ai donc pris occasionnellement un abonnement d'un mois pour tester son service. Jusque là tout allait bien mais ça a commencé à se dégrader petit à petit.
Gambling and risky information
Comme pour tout parieur, il est difficile d'avoir un taux de réussite de 100%. Thomas La Masse établissait donc une feuille de statistiques qui résumait ses victoires et ses défaites. Bizarrement, certaines défaites n'était pas notées. Curieux donc… Peut-être avait-il fait une erreur ? Cela arrive de temps en temps… Mais quand ce type d'erreur se reproduit de manière fréquente, on commence à penser qu'il note bien ce qui l'arrange. S'il y avait que ça ce ne serait pas trop grave…
Subscription for an indefinite period
Depuis le 31 mai 2018 (si je ne me trompe pas), les abonnements mensuels à renouveler deviennent des abonnements mensuels à durée indéterminée. Sans que personne ne soit tenu informé de ce changement de situation. Je m'en suis aperçu lorsque mon abonnement a été renouvelé sans mon autorisation, ce qui n'était pas le cas auparavant. C'est alors que j'ai lu les Terms of Sales et que je me suis rendu compte à quel point l'arnaque était grande.
Pour résumer les Conditions Générales de Vente : tout abonnement est souscrit pour une durée indéterminée. Pour résilier un abonnement, il faut envoyer une lettre recommandée au siège de la société et la résiliation est effective au 31 mai de l'année suivante (31 mai étant la date anniversaire de la société). Ce qui veut dire que jusqu'au 31 mai prochain je serai dans l'obligation de rester abonné et de payer 29,90€/mois.
Thomas La Masse manque à l'appel
M'inquiétant pour cet argent qui part en l'air, je décide d'essayer de le contacter.
J'ai d'abord envoyé un message grâce au formulaire de contact prévu pour les demandes de désabonnement. J'ai obtenu une réponse quasi immédiate et automatique me disant qu'il ne répond pas au mail et qu'il faut l'appeler ou le contacter par WhatsApp.
Je l'ai donc appelé. Mais en vain, personne ne répond et sa messagerie vocale est saturée. J'essaye donc de l'appeler sur WhatsApp mais j'obtiens le même silence radio, je lui laisse donc un message écrit.
Après quelques jours j'ai enfin obtenu une réponse par WhatsApp qui confirme l'étendue de l'arnaque :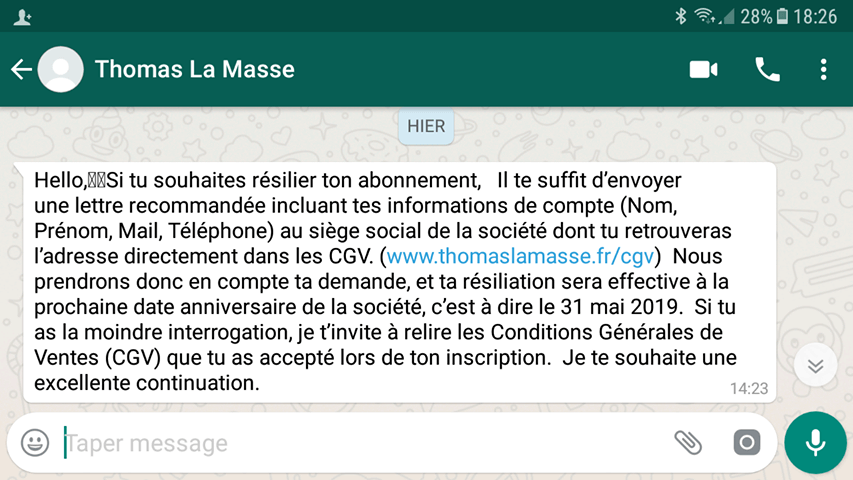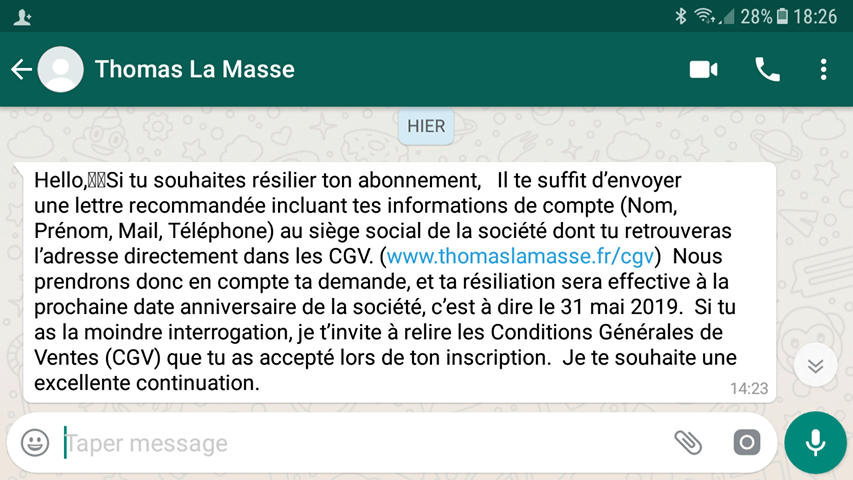 How to unsubscribe?
I explain everything in this article:
Thomas La Masse: two methods to unsubscribe
N'hésitez pas à dire ce que vous en pensez dans les commentaires, de nombreuses personnes sont dans la même galère…
Même s'il lui arrive de mettre des bons paris, je ne pense pas que ce soit un bon investissement !
Good afternoon to you 😉
Read also : Ecosia: the green search engine